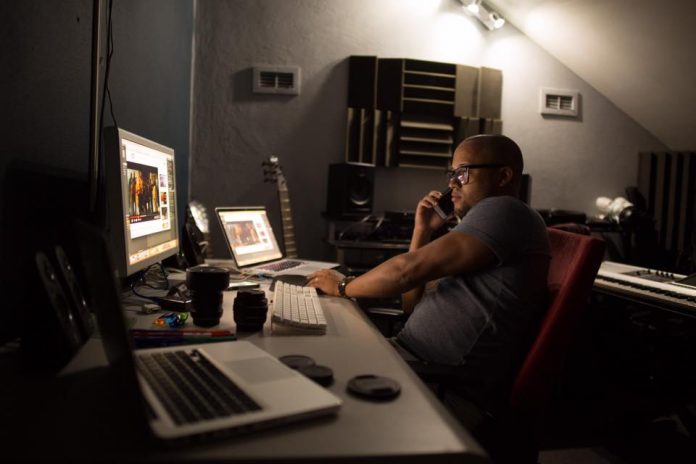 Edward Silberie, better known as 'Aidi', is a 33 year old man who started his music career from a young age. In an interview with our reporter, Edward told us about his music career, his transition to music video director, and the projects he has for the future.
Edward started practicing music when he was only 6 years old, when his dad signed him up for piano lessons. While he was taking piano lessons, Mr. Robert Thiel was also playing piano at the restaurant owned by Edward's family, and it was there where he started experimenting with different types of music on piano, under the guidance of Thiel.
He says that he was part of the group of gaita – traditional Christmas-time music in Aruba – Ritmo y Mas, where he was playing the piano. During that time, Edward started recording his own songs. "During that time I started learning to record by myself at home. I started making rhythms by myself at home with a computer that I had, and Robert Thiel started giving me the programs to record, compose and arrange."
Edward says that during that same time he had a friend who used to come to him to record every afternoon after school, and this is how he learned to make beats, how to record, and from there he expanded and continued exploring. He started recording with various local artists on the island, among others, Jonathan Thiel, and from there his music career started.
After about four years that he spent recording for local artists in Aruba, Edward decided to take his passion more seriously and went to study music at Full Sail University.
"My intention was always to record in a big studio in the United States. You know you always have that dream from a young age, of wanting to be behind the console, record with big artists. And after a finished school, Penn Foster in Aruba, y started EPI Hospitality and Tourism. But when I realized I had the opportunity to do what I really like, I stopped attending EPI and went to Full Sail", Edward says.
He explains that at Full Sail he took advantage of the opportunity and connected with a lot of people, with the producers who were there, the department of videography, and there he realized that there is a lot more that can be done in the world of music. "It was there that my mind started going, 'wow, there's so much more that you can do'. Not only recording artists, but you can make movies, video games, you can work in television. So it was there that my mind expanded."
When Edward came back to Aruba, he continued recording music with different local artists, and together with local sensation Jeon, he was traveling a lot to Venezuela to record video. During one of these trips, he realized that being a music video director was also something he could do.
"During the recording of one video, the director was there but I was giving ideas and instructions for various things that could be done during the recording. From there to a few more videos, I was basically planning the whole project. First I was doing it for fun because I didn't know what being a director meant, but I was putting everything together. And after that, with a project I managed to buy all my equipment, and I started recording videos for Jeon", Edward says.
In this trajectory, Edward says he started experimenting; he started learning more and exploring in the world of music video. At the beginning he didn't see it as something he would dedicate himself to do, and it started with a game, but he took it seriously and currently he records videos with international artists. Every day he grows more in the world of music video.
Last October, Jeon launched a new album, titled Santa Cruz. Edward says that on the album there are different collaborations with local artists and with international producers. Each song in the album has the name of a town in Aruba, where the focus is on the rhythm of the songs that people in those specific areas listen to.
"This project is really 'crioyo' [red: authentic local]. The cover was made by a person who knows the culture of Aruba, we didn't choose to work with international designers, we chose a person from Aruba who knows Aruban culture, it is really a crioyo project", he explains.
On this album, Edward himself has two songs that he produced, and together with a producer from the Netherlands MB, who also made the song.
Since 2017 Edward has his own company, Reclight Production. Edward worked with international artists, like Jeon, Lumino, Malu, Odilia, Snoop Dogg, Carlos Arroyo, Joey Montana, Irsais and Joe Veras, among others. His vision is to work and support local artists.