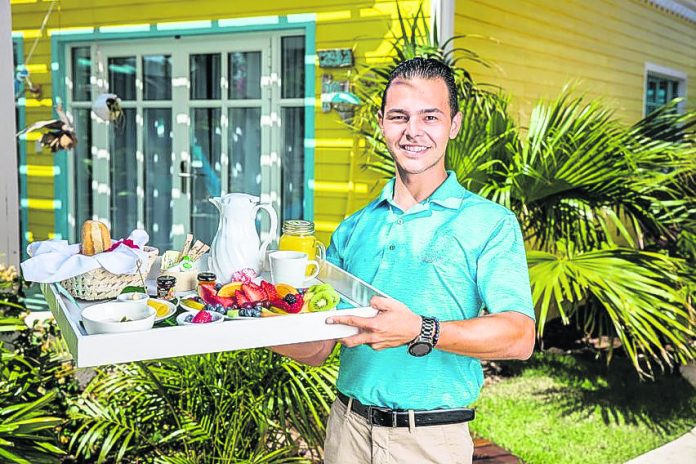 Boardwalk Boutique Hotel Aruba is announcing a new partnership with local vendor Eduardo's Beach Shack. Boardwalk recently re-opened as a boutique hotel with 46 Caribbean casitas, and with the expansion came additional services. The breakfast service that Eduardo's Beach Shack prepares daily includes savory & healthy breakfast packages, along with fresh juices, their famous smoothies and much more. The on-property service is exclusively available to hotel guests of Boardwalk Boutique Hotel.
All items are prepared with unprocessed wholefoods, with plenty of vegan & gluten-free options available. Breakfast can be ordered through room services, and delivered to the private patio of a casita, or enjoyed at the brand new Lobby Café. Eduardo's Beach Shack handles all other food & beverage items at Boardwalk Boutique Hotel as well, including fresh grab & go items, daily poolside bar service and the weekly happy hour cocktail.
"Our partnership with Eduardo's Beach Shack is such a logical step. We are both family-owned, local companies with a small footprint joining forces in what we both do best: bringing great & friendly service with a good, consistent product that leaves people feeling nourished and relaxed while in paradise", says Kimberly Rooijakkers, owner of Boardwalk Boutique Hotel. "So you get to enjoy the best of both worlds: healthy, nourishing food and beverages provided by Eduardo's on one of Aruba's most relaxing settings, in the privacy of your own Caribbean casita at our boutique hotel", Rooijakkers concludes.
Eduardo's Beach Shack has required a strong name in the last years and continues to see a growing customer base at their main location, beach front at Palm Beach. Eduardo's Beach Shack started out over 13 years ago as a new initiative to offer fresh, healthy and vegan breakfast options and smoothies, and is now known as Aruba's best smoothie bar.
"We support the sustainable movement to contribute to a better planet and thrive in providing people with choices in every dietary requirement. And we fully embrace the authentic, colourful Caribbean character in everything we do and represent", shares Eduardo's Beach Shack owner Michelle.
Boardwalk Boutique Hotel Aruba consists of 46 casita's amidst lush gardens, tucked away on a historic coconut plantation, just steps from Aruba's beautiful Palm Beach. Boardwalk Boutique Hotel recently expanded by adding a multi-experiential pool with overwater hammocks, a gym with spa and yoga services on request, and a spacious Lobby with a Lobby Café for fresh grab & go items. Boardwalk Boutique Hotel is consistently ranked the #2 best hotel in Aruba. More on boardwalkaruba.com.