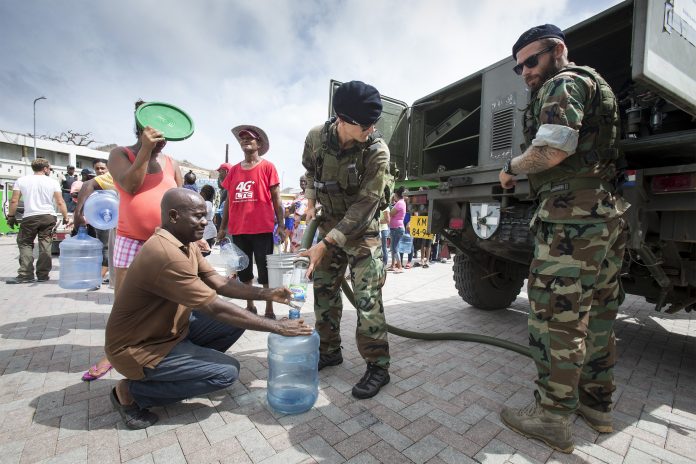 We all still have vivid memories of the devastating force of hurricane Irma. To stay on top of our game when it comes to providing humanitarian aid, Defense is organizing Exercise Caribbean Coast. Ensuring a good crisis communication structure and maintaining public order and safety in a natural disaster are two of the key elements that will be addressed during the exercise. This year, Caribbean Coast will be held from 9 to 19 September on Sint Maarten, Saba, Bonaire, St. Eustatius and Curaçao.
Caribbean Coast is a Dutch exercise, involving the participation of the Royal Netherlands Navy (RNLN), the Royal Netherlands Air Force (RNLAF) and the Royal Netherlands Army (RNLA). Four naval vessels will join the exercise: HNLMS Snellius, HNLMS Groningen, HNLMS Pelikaan and HNLMS Johan de Witt. The amphibious transport ship HNLMS Johan de Witt will leave on 26 August for the transatlantic crossing from Den Helder. The other vessels are already in the area. The RNLAF will participate with three helicopters and the RNLA will send supporting engineer, medical and CIMIC units. A total of over 700 Dutch military personnel will participate, together with French and German military personnel.
During Caribbean Coast, military personnel will train in the evacuation of civilians in distress, making the affected area accessible, maintaining public order and safety and providing immediate emergency relief to victims of natural disasters.
Hurricane Irma underlined the importance of being well-prepared for hurricanes and other natural disasters. Defence personnel train for these situations so that they can provide effective assistance to Dutch citizens in a crisis situation. Every four years, Defence organises a large-scale humanitarian exercise in the Caribbean, the location chosen deliberately – during the hurricane season – to ensure that the situation is as realistic as possible. Military personnel therefore exercise on different islands, together with local and civil authorities.q