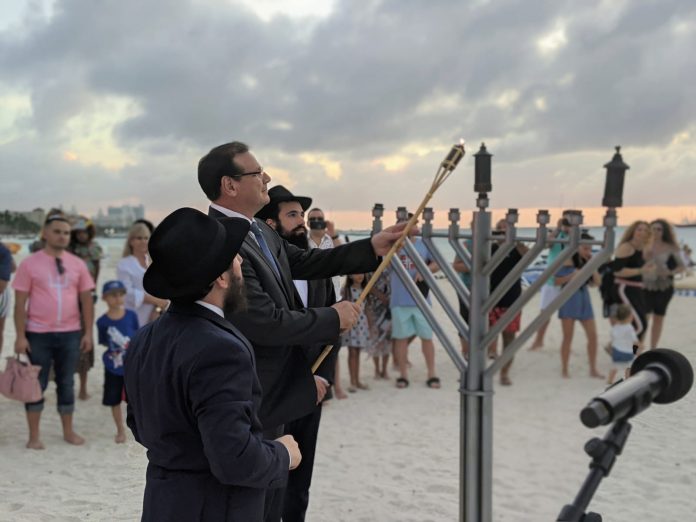 The Jewish eight day holiday of Chanukah begins on Sunday evening (December 18th) and Chabad plans to kick off the most celebrated Jewish holiday with a beautiful public Menorah Lighting Ceremony at the Ritz-Carlton Aruba.
All are invited to join at the Ritz-Carlton beach-front at 5:30pm to watch the first candle being lit. Lively music will be played and delicious latkes and jelly donuts (traditional Chanukah foods) will be served.
Chanukah, the Festival of Lights, begins this year on the evening of Sunday, December 18th and concludes the evening of Sunday, December 25th. It's a holiday with a universal message of religious freedom, celebrating the victory of a militarily weak Jewish people who defeated the Syrian Greeks who had overrun ancient Israel and sought to impose restrictions on the Jewish way of life and prohibit religious freedom.
Chabad will be taking the joy of Chanukah all around Aruba this coming week with a full schedule of events for all ages. Each night- the public Menorah will be lit at a different location (see below), culminating with a grand Chanukah Concert with NY singer Yoni Z on the eighth night.
"The message of Chanukah is the message of light," said Rabbi Ahron Blasberg, director of Chabad Aruba. "The nature of light is that it is always victorious over darkness. A small amount of light dispels a lot of darkness. This message is ever relevant especially in these days where there is so much darkness in the world and every day brings news of new hate crimes. Let's light our spiritual torches and share our light. Another act of goodness and kindness, another act of light, can make all the difference."
This year's public menorah lighting carries added significance as Jewish communities worldwide celebrate the Year of Hakhel or "Gathering," a once-in-seven-years Jewish tradition. The marking of this special occasion is part of the reason Chaba Aruba is offering Chanukah concert and many public Menorahs lightings and is expecting record crowds at the menorah-lighting this year.
"Unity is what makes a strong community, " said  Rabbi Ahron Blasberg. "Hakhel is a time for us to tune in to this, because together we can accomplish great things. There is no greater display of the literal light it is in our power to bring into the world than to gather together and light the menorah. This is what the world needs."
For more information about Chanukah visit www.JewishAruba.com/Chanukah
Night #1: December 18th at 5:30pm candle lighting ceremony at the Ritz-Carlton Aruba beach front
Night # 2: December 19th at 6pm Car Menorah parade leaving from the California Lighthouse www.JewishAruba.com/parade
Night # 3: December 20th at 5.30pm candle lighting ceremony at Eagle Beach opposite La Cabana Beach Resort
Night #4: December 21st at 5:30pm candle lighting ceremony at The Playa Linda Beach Resort Pool Deck
Night #5: December 22nd candle lighting ceremony at 5:30pm at the Marriott Ocean Club (outside the lobby)
Night # 6: December 23rd Shabbat at Chabad (RSVP www.jewisharuba.com/Shabbat)
Night # 7: December 24th at 8pm Havdalla and candle lighting at Chabad
Night # 8: December 25th at 7pm ~ Chanukah Hakhel Concert with the Yoni Z at the Hyatt Regency Parking Lot (VIP tickets www.jewisharuba.com/vip)
ALL WELCOME!
Thank you to our sponsors:
A special shout out to these sponsors who are making all the Chanukah events possible and free for the public: Caribbean Mercantile Bank (CMB), Hyatt Regency Aruba Resort and Casino, Ben Real Estate Services, Diamonds International Aruba, Daher Residenice, 4D Photo Bar, Do-It Center, Cigar Emporium, Superfood Plaza, Digital View and MayDragon Fly Marketing.