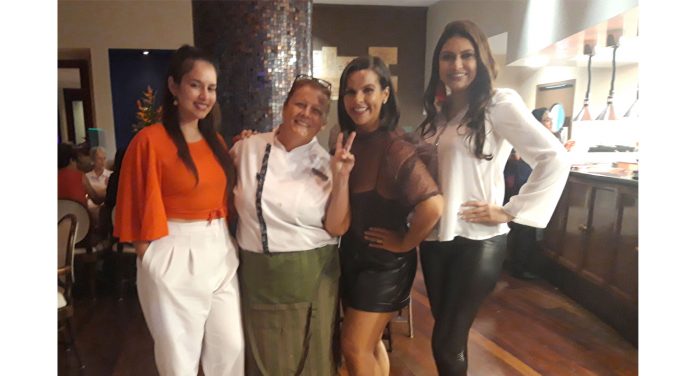 24-hour bonus, what do you do with that extra time? The Hilton Aruba Caribbean Resort & Casino made it a magical Intercalary Day last Saturday with a six-course culinary experience with complimentary wine pairing.
'Go bonanza' was the credo!
The signature of the evening was the enthusiastic kitchen crew and waiters. The dynamics of the service made a difference and added fun to the experience. But, of course the food and wine form the core and it must be said: they matched the ambiance and lived up to the expectations of Sunset Grille's standard. Divino's top sommelier, Kiume Tjon-A-Tsien, just won the Sommelier of the Year competition and we know why. He paired with perfection and talked with great flow. The evening turned out to be tasteful, fun, entertaining, in short: bonanza for the inner spririt!
Applause for the menu created by French & American-trained Executive Chef Matt Boland, and French born Katia Soujol, Executive Sous Chef:
Fresh Grouper Ceviche, paired with Matua Sauvignon Blanc, New Zealand; Escargot & Shrimp swimming in Garlic Butter, Herbs, with Focaccia, complemented by Beringer Regional Estates Chardonnay, Napa Valley, California; Gnocchi Mushroom butter, paired with Elouan Pinot Noir, Oregon; Lamb Chop on a bed of Couscous, Green Peppercorn sauce, with Elouan Pinot Noir, Oregon; Braised Beef Slider Chipotle Mayo, Gouda Cheese, Sweet Potato Fries, and Caribbean Slaw paired with Beringer Bros, Red Blend, Aged in Bourbon Barrels, California. Closure: traditional Apple Tart Tartin Crème Anglaise, with Ice Cream served for dessert and matched with Madiki Breeze Cocktail Invented by the resort's very own master bartender Gaby, made with Tito's Vodka, Disaronno Amaretto, and splashes of Pineapple and Orange Juice.
Hopefully we do not need to wait another four year for this feast but that only Hilton will know.