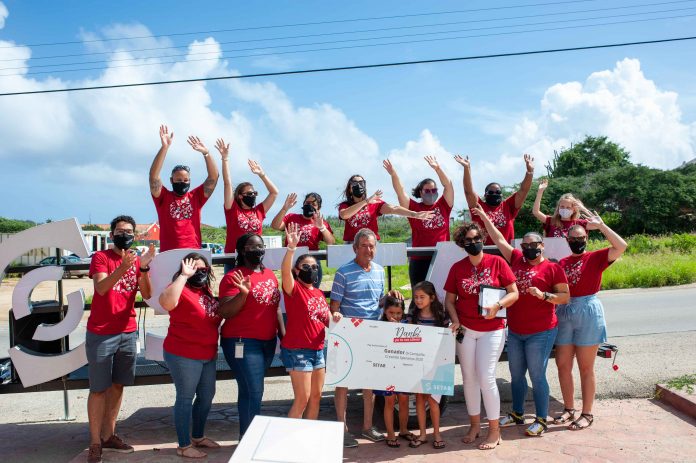 The 'Creating Hope' Bus of Setar was in the neighborhoods of Paradera and Santa Cruz last week. With several of their employees, they were on the road surprising their clients and giving out gifts as a token of appreciation for their end of year campaign "Thank you for being our client!"
With this campaign clients of setar will be able to win baskets with different items and a full year of free Setar service in 2021. Here are the winners of the neighbourhoods of Paradera and Santa Cruz:
Isabelita Dirksz (Postpaid U 100 Minutes);
Ricomeda Kock (Postpaid Regular 60 Minutes);
Roque Ras (Hybrid Basic);
Milena Vidal Velasquez (Hybrid Comfort);
Francisco Ridderstap (SETAR Complete Premium Package);
Mildred Clemencia (SETAR Complete 60+ Start-Up Package);
Teresa Lopez (Wireless Broadband Lite Package);
Marienne Cuba (Cable TV Digital Basic HD);
Gyseth Nuesch (Cablenet Comfort);
Domingo Boekhoudt (SETAR Complete 60+ Start-Up Package).
On Sunday, Decemebr 6th, 2020 the Setar crew will jump on the bus again, and visit the neighbourhoods of Oranjestad and Noord.
Be ready for Setar signs and a good time to be able to win gadgets, gift cards and much more "on the spot."