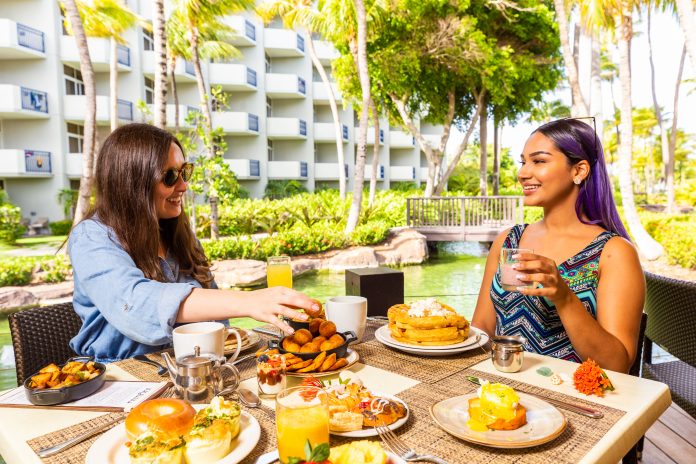 International Women's Day, IWD, has been celebrated annually on March 8th, since 1911. The day belongs to all women across the globe and commemorates their collective struggle for equality and human rights.
In Aruba, at Hilton Aruba Caribbean Resort & Casino, Women's Day is dedicated to community and companionship. You are hereby invited to attend the resort's festive gatherings, in the company of colleagues, family members or friends.
Women's Day Breakfast Buffet at Laguna
Join the sumptuous breakfast buffet served at Laguna Restaurant in honor of IWD. The all-you-can-eat extravaganza with unlimited mimosas and Opera Prima Pink Moscato, features a local station, Eggs Benedict, a pancake and waffle station, made-to-order eggs and omelet station, hot items, freshly baked muffins and pastries, and more. Live entertainment from 10:00am-12:00pm promises to further enhance the experience with inside and outside seating.
Time: 7am – 12:00noon
Reservations is highly recommended. Please call 526 6612 or email the concierge at hiltonconcierge@depalmtours.com.
Women's Day Happy Hour at Mira Solo
Another opportunity for networking and connections will be staged at Mira Solo Lobby Bar, an outdoor lounge suspended over the waterfalls, and showcasing the gorgeous Hilton beach with technicolor sunsets. Bring your favorite people, colleagues, family members or friends for a very special happy hour, from 5PM to 7PM, with cocktails, snacks, and good vibes, acknowledging the amazing achievements of women for the past 91 years, since the day IWD was first celebrated.
Special offer for the day: 2 FOR 1 by the glass or by the bottle, Opera Prima Pink Moscato, Gérard Bertrand Côte des Roses, Balashi & Chill beers. Generous snack platter, loaded with cheeseballs, wings, buffalo cauliflower bites, calamari & fries. With live entertainment from 5PM to 7PM.
Sip a cocktail and relax in the modern, chic environment of Mira Solo, as you enjoy the evening air, listen to live entertainment, and savor small bites, at Hilton Aruba Caribbean Resort & Casino.q