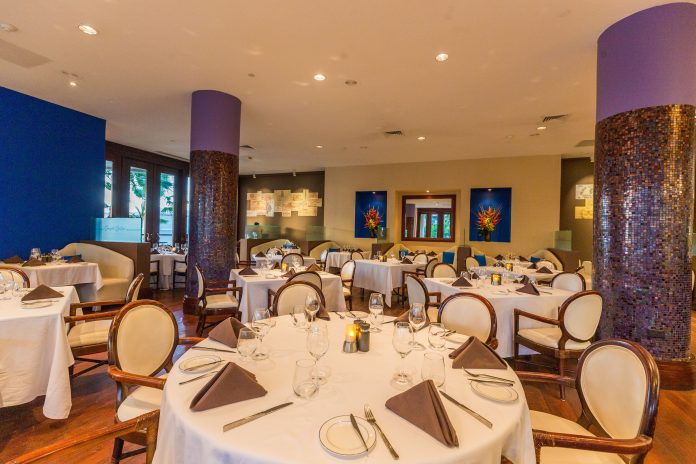 Patrons are invited Saturday, February 29, 6:30pm to leap back in time with a dinner featuring classic fare from the delectable repertory of the Hilton Caribbean Aruba Resort & Casino culinary brigade.
The upcoming six-course, wine-paired meal summons leapsters to the second in the series of Sunset Grille wine dinners showcasing the steakhouse's elevated cuisine in collaboration with a top-tier local wine supplier.
The special wine pairing will be guided by Divino's star sommelier, Kiume Tjon-A-Tsien, the winner of the recent 2020 Sommelier of the Year competition.
The menu for the evening was created by French & American-trained Executive Chef Matt Boland, and French born Katia Soujol, Executive Sous Chef, inspired by the first leap year of the decade.
The evening will take off with a Sparkling Wine Reception at Mira Solo Lobby Bar at 6:30pm, then guests will be escorted to their tables, with indoor seating available at 7pm.
On the menu: Fresh Grouper Ceviche, paired with Matua Sauvignon Blanc, New Zealand; Escargot & Shrimp swimming in Garlic Butter, Herbs, with Focaccia, complemented by Beringer Regional Estates Chardonnay, Napa Valley, California; Gnocchi Mushroom butter, paired with Elouan Pinot Noir, Oregon; Lamb Chop on a bed of Couscous, Green Peppercorn sauce, with Elouan Pinot Noir, Oregon; Braised Beef Slider Chipotle Mayo, Gouda Cheese, Sweet Potato Fries, and Caribbean Slaw paired with Beringer Bros, Red Blend, Aged in Bourbon Barrels, California.
The traditional Apple Tart Tartin Crème Anglaise, with Ice Cream served for dessert will be matched with Madiki Breeze Cocktail Invented by the resort's very own master bartender Gaby, made with Tito's Vodka, Disaronno Amaretto, and splashes of Pineapple and Orange Juice.
The six-course Culinary Experience with Complimentary Wine Pairing is available at a great price.
Reservations & Questions: 526 6612 or email HiltonConcierge@depalmtours.com
HILTON ARUBA CARIBBEAN RESORT & CASINO
J.E. Irausquin Blvd. 81, Palm Beach, Aruba
HiltonAruba.com | @HiltonAruba | #HiltonAruba