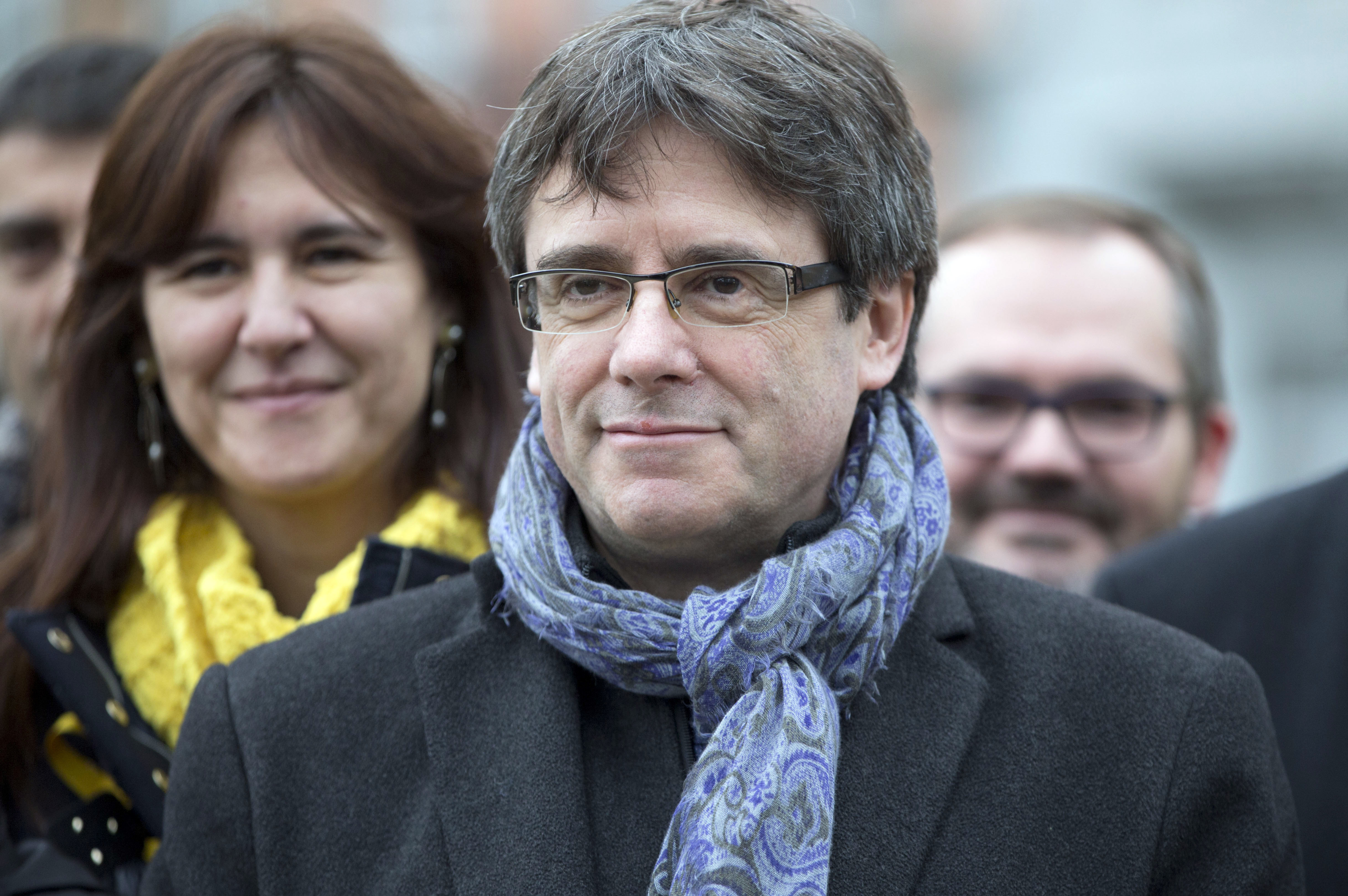 ARITZ PARRA
Associated Press
MADRID (AP) — Catalonia's former president, a fugitive sought by Spain over a foiled secession bid, will travel to Denmark next week for a university debate despite the possible risk of arrest, officials said Friday.
Carles Puigdemont plans to make the trip to Copenhagen as he tries to get his old job back and step up the pressure on Spanish authorities, which have said a fugitive abroad can't be the Catalan regional president.
The University of Copenhagen announced a debate for Monday in the Danish capital on "Catalonia and Europe at a Crossroads for Democracy." Janni Brixen, a media official with the university's Faculty of Social Science, said Puigdemont would attend it "in person."
A spokeswoman for Puigdemont's party also confirmed that he was planning to travel to Copenhagen and attend the debate "representing the legitimate government of Catalonia." Puigdemont is being investigated by Spain for possible rebellion, sedition and embezzlement linked to a unilateral declaration of independence last fall in the northeastern Spanish region of Catalonia.
A Spanish Supreme Court judge dropped an extradition request to Belgium in December after it became clear that authorities in Brussels would probably agree to send him back but would restricted the crimes that he could be judged for in Spain.
The separatist politician still faces detention if he returns to Spain, but is free to travel elsewhere unless the judge re-activates the European and international arrest warrants against him. There was no sign of that being in the works on Friday.
Lawyer Paul Bekaert, who has represented Puigdemont in earlier extradition hearings in Belgium, declined to discuss his assessment of the risk that the trip posed. The Danish Ministry of Justice also refused to comment. Puigdemont is seeking to be back in charge of affairs in Catalonia even if it is from self-imposed exile in Belgium.
"If I have to choose between being an inmate or a president, I'd rather be a president, even from afar," he told Catalonia's public radio Friday.
"At least now I can do things that I wouldn't be able to do in prison," he said, referring to the help that "new technologies" could provide.
The October secession attempt led Spanish central authorities to take direct control of Catalonia, disband its regional cabinet and call an early regional election.
The Catalan vote in December failed to break the political deadlock, granting separatists a slim parliamentary majority that in theory would allow them to form a government.
But with ousted Catalan Cabinet members under investigation, jailed or in Belgium and facing arrest if they return home, the regional parliament must decide by the end of January whether to permit Puigdemont's re-election.
The chamber's regulations are imprecise about what to do under such unprecedented situation. On Friday, Puigdemont said separatist parties were studying whether parliamentary immunity could be invoked to allow his return without being arrested.
Spain's central government has vowed to impede Puigdemont's reinstatement by challenging it in courts if necessary and to keep direct control over the region until a new government takes over.
The host of the forum, Political Science Professor Mikkel Vedby Rasmussen, said the controversy around the former Catalan president was part of the reason why the University of Copenhagen had decided that a "healthy debate" was needed in an "open and mature environment."
"Danish society is very much driven by consensus and for that effect we engage in endless deliberations," Vedby Rasmussen told The Associated Press. "From that political perspective, both sides have been extremely confrontational, and that comes as something alien for Danish people who want to understand better what's going on in Catalonia."