Aruban born and bred Steve Francees has a passion for photography. Being a local photographer he knows the hidden gems of this island and captures them in an amazing way. As a Family and Landscape photographer Steve is ready to create your next 'vacation memories', morning and/or sunset shots. T: (297) 738-0777, M: stevefrancees@hotmail.com,
www.instagram.com/stevefrancees and www.stevefrancees.com
The hidden Natural Bridge
Here in Aruba we have three natural bridges and many see this one on thinking that it's the world famous one but it's not. The why is easy, its way too dangerous to go down the cliff to reach this beauty and no tour companies will do that. Some people refuse to go down due fear of height. To reach this beauty you must go to San Nicolas and drive up the hill till The Point Lighthouse, park your car and walk until you reach the east point coast and go left along the coastline and good luck going down the cliff.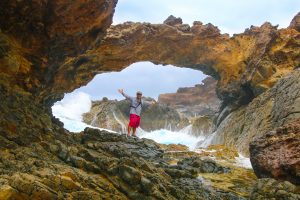 Surfside Beach
This beach was very famous when we were kids and many locals love to swim at this beach. After some years the locals shifted to the more north-west beaches like Eagle, Boca Catalina and Arashi but after the government renovated the whole area it got a new facelift and its back as a family beach and weekends are just amazing at this area.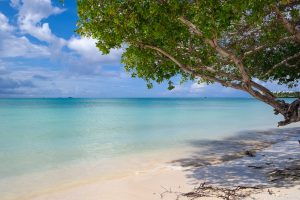 Natural Bridge at Blackstone Beach
As I mentioned, there are three natural bridges and this one is in the Arikok National Park. The other two Bridges you can visit by car but for this one you must have a 4X4 jeep or you will get stuck at the Andicuri Beach.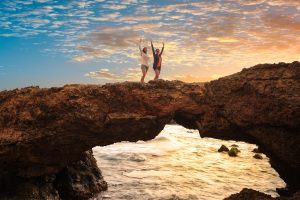 Eagle Beach for breast cancer awareness month
We are in the breast cancer awareness month and we went thru this episode two times in our family. First it was my sister who got cancer at 17 years old and she died six months later with 18 years old so I know exactly the pain and suffering the families go through. The second one was three years ago when my brother in law got pancreatic cancer and died three months later. Eagle Beach was his place where my brother in law loved to spend his beach days and I want to dedicate this photo to my sister Suzy and Levit that are now in His Glory.