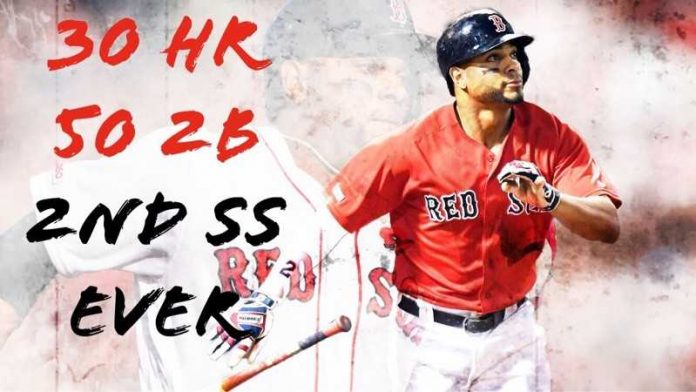 In the story below, two worlds come together in a beautiful way: my world as a boy in the Netherlands who falls under the spell of baseball in the 1970s and later even sees a game in American professional baseball in Canada in 1999 (between the Toronto Blue Jays and Cleveland Indians), and my world in Aruba since the end of October 2017, where I as a baseball fan discover how important baseball is in Aruba, and how proud they are of their Aruban top baseball player Xander Bogaerts who won the World Series twice with Boston Red Sox, and with the Netherlands became world champion in 2011!
In January 2018 I had a special meeting, in the visitor center of the Aruba National Park. A few times I saw a tall, dark-hued and athletically built man in his twenties walking around, with a towel around his head like a turban. At one point he sat down across the street from where my wife and I were. I took another good look at him, excitedly nudged my wife and said "That's Xander Bogaerts, from the Boston Red Sox, I'm going to ask him if he is!" I walked up to him, he gave me a friendly look, I asked him, and with a smile he confirmed my suspicion. We had a nice chat, I told him that I have been a baseball fan since I was 10 because my cousin was a pitcher for ADO and later the Dutch national team. And that I have become a fan of Boston Red Sox since he started playing there as a pro in 2013, and immediately won the World Series in the first year. He said he was thrilled that the Arubans here are so proud of him, and he sees people wearing Boston Red Sox caps and t-shirts everywhere. I thanked him for the conversation, a moment later I saw Xander with a lady (his sister Sandra?) driving away in an open jeep, he saw me taking a picture and waved happily to the lens, without any doubt sympathetic.
Family practice
A month later I was driving back from a nature photo safari, and saw some very serious baseball players playing on a small baseball field near us, maybe 2-3 miles from our house. I decided to take a look, and to my surprise, Xander Bogaerts was there, practicing fanatically in such a typical "baseball cage". As it turned out, the other two men were his twin brother Jair and a cousin. Jair first played with Xander at Boston Red Sox and then with Chicago Cubs (in 2012) but never in the former, so he quickly switched to "representative in the sports world", with Xander as a brother he had many connections. That cousin played at Atlanta Braves, but not at the highest level either, so Xander was the only one. It was nice to see how relaxed the three family members interacted with each other, but with a Xander who practiced his 'swing' very fanatically in between. I was allowed to take some pictures and wished them good luck..
Down to earth
Again a month later I saw Xander walking at that sports field, he was heading towards the nearby sports / fitness center. He looked relaxed so I went up to him and he recognized me. I told him that in Aruba I like to take pictures of the shoco (the unique Aruban burrowing owl). That appealed to him because he said he saw them often when he was growing up as a little boy in San Nicolas, in the south of Aruba. I showed him some photos right away, he thought they were very beautiful. It was so special for me to be in this place, far from the busy outside world, on an almost deserted sports field, completely relaxed with one of the most appreciated young players in the highest American professional baseball league. He really is a star. Xander makes many millions (through a lucrative 6-year contract), but he remains very "down-to-earth", absolutely no fancy talk or arrogance. How different from some young Dutch footballers who are often puffed up and simply walk on with headphones when young fans want an autograph, scandalous! Xander also does a lot for the youth in Aruba, he has donated money in his hometown San Nicolas for a beautiful baseball field for the youth, which also bears his name.
The story begins
It is also a special story how Xander (born October 1, 1992) ended up with the Boston Red Sox. What I've heard is that the Boston scouts were in Aruba and liked Jair when they saw him play. However, Jair said they should go and see his brother Xander. Unfortunately Xander had been in bed for a while with chicken pox and a high fever. Boston scouts then decided to wait until Xander was fit, he made a big impression and they went to see Xander's mother (his father had left the family early) to sign a contract. Mother agreed, but on the condition that Xander finished his school (Colegio Arubano). He was only 16 when he signed that contract in 2009. Mother Sandra has always raised her children with good standards and values, so they go with a 'backpack' into society, and that included a school diploma. Although she knew her son was always fond of baseball (he practiced in the yard with a club against a rubber truck tire to get more power), and everyone thought he was talented early on, she was strict about that, and rightly so, how many failed baseball adventures lead to a bad future without a good college diploma.
Derek Jeter
There were already Arubans who played in Major League Baseball (MLB), the highest American professional baseball league: Eugene Kingsale, Calvin Maduro, Sidney Ponson and Radhames Dijkhoff, and Chadwick Tromp recently made his debut with the San Francisco Giants. But Xander is by far the most successful Aruban at the moment, with an impressive record for someone of only 27 years old. He won the World Series twice, in his debut year in 2013, still wearing shirt number 72 and as 3rd baseman (as the youngest player ever to hit a triple in the World Series!) and in 2018 (as the only player in the 2013 team). He won the Silver Slugger Award three times in the American League for his performance with the baseball bat. In 2016 he was invited to the prestigious MLB All Star Team for the first time (the best players of the National and American League play against each other mid-season), a huge honor! In addition, sports commentators at ESPN and Fox Sport regularly call "The X-Man" 1 of the best hitters, and 1 of the most talented "shortstops", a very important position on the field. Xander was always a fan of the legendary shortstop Derek Jeter (of the New York Yankees), so he also wears number 2. And Xander also regularly shows the 'Derek Jeter jump': he jumps up while throwing the ball, to be able to use more power.
Transfer in the pipeline?
After Xander won the World Series with Boston Red Sox for the second time in 2018, the performance of Boston Red Sox is unfortunately very disappointing: in the 2019 season a hopeless third place (so no Play Offs for the winner of the World Series!) and in 2020 Boston is even desolate at the bottom, with far more losses than games won, so again no Play Offs. This is sad for Xander, who extended his contract for six years in April 2019, based on a plan of the management to keep the Boston Red Sox at the top with him as central man for years to come. But despite the poor play of Boston Red Sox (with failing pitchers and defining batters out of form, such as Rafael Devers and JD Martinez), Xander continues to profile himself as a top player, with both strong play with the glove and the bat. In games where the others fail, he hits home runs, catches balls beautifully, or throws balls perfectly from difficult positions to fellow players to make an important "out". Because things are going so badly with the Boston Red Sox and the money is coming in less due to the corona woes, there is currently talk of a transfer from Xander to a top club, the name of the Los Angeles Dodgers is mentioned, also because there his ex-team player and good friend Mookie Betts went last year. I'm curious, it would be a shame for Boston Red Sox, but to be honest, it's a nice new challenge for him. However, Xander will always keep Boston in his heart, where he grew up and won beautiful prizes. And let's not forget, in 2011 Xander won the world title with the Dutch national team against the ever-powerful Cuba, which played with a series of MLB top players, including Jose Abreu and Yuli Gurriel. It happened in the pouring rain in Panama, the result became 2-1, for the first time the Netherlands was world champion in baseball (and so far the only time), because of this he was even honored by the governor in Aruba as Knight in de Orde van Oranje Nassau.
The season for Boston ends in October and Xander will then spend a few months' vacation in Aruba with his family in San Nicolas. Since I have lived in Aruba, I have met Xander several times, and that also applies to my wife, who has arranged something with Xander for me twice behind my back: an original Boston Red Sox shirt with signature, and she has a t shirt from the 2018 World Series (gift from a friend) embellished with a signature and piece of text from Xander, those were very nice surprises! The funny thing is that at the beginning of this year Xander said to an acquaintance of us (who lives close to that baseball field and has known him for years): "Mi no a wak e pareja", meaning "I have not seen that Dutch couple". So that's us, we had missed each other this year and Xander had noticed that. That is very special about this acclaimed Aruban baseball hero, and it says a lot how sympathetic and down to earth the man is.