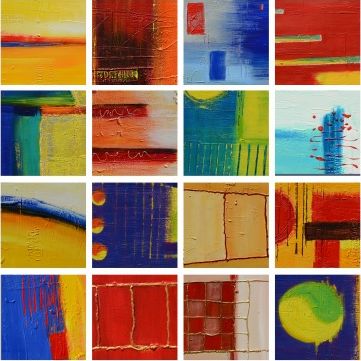 'Balance' is a one-week Pop-up art exhibition by local artist Grace Ashruf Rahusen, which opens with a reception on Wednesday, November 27. There is no admission and this art-expo is open to the public.
Throughout this collection a reoccurring thematic circle exists. On the surface, this circle is symbolic of the sun & moon— together they are ever-present in our world. Deeper, the circle represents another endless spirit within each of us. We all have an inner strength we muster to take steps toward our goals and the roads we take to reach them. This is a powerful and universal force, which like the sun & moon requires balance to attain success.
On each of the artworks energetic upward brushstrokes travel from earth into the sky to form forces that connect our – inner – world, with the sun and moon (as our goal) in a colorful, insightful and peaceful composition. An aurora of peace is established.
"With this collection I express our force to reach our goals," grace explains. She adds that the vibrant landscape of her home, Aruba, informs this theme; it is a space where land and sea meet, but where those opposing elements combine to create consonance.
As usual, the artist will donate 10% of eventual revenues of this exhibition again, this time to the Foundation Hende Muhe den Dificultad meaning Women in Emergency State. This foundation has, since its foundation twenty + years ago, been giving support and shelter to women who find themselves in emergency situations.
Pop-up expo:
Address: Italiestraat 38 (Sasakiweg, next to Op=Op)
Time: 7.30 – 10PM
More info: Email: rahusen@setarnet.aw or Cell: +297 5942613