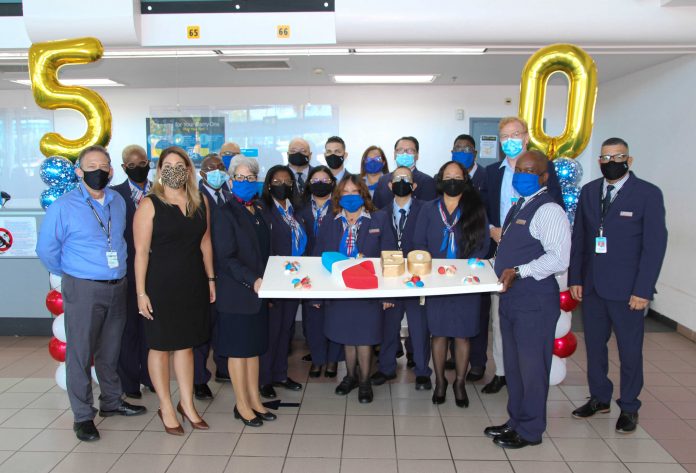 50 years ago, today on March 3, 1971 American Airlines launched its first ever service to Aruba when it started flights between Miami International Airport (MIA) and Aeropuerto Internacional Reina Beatrix (AUA Airport).  
The airline expanded greatly from the 1970s to the '90s, developing from a basically domestic American airline into an international carrier reaching the Caribbean, South America, Europe, and the Pacific, largely by buying routes of other airlines. In 2001 it acquired the American carrier Trans World Airlines, Inc. Throughout 50 proud years of distinguished service to Aruba, American Airlines has been known for its distinctive service which emphasizes timeless values and has maintained a strong foothold in the market, despite intense competition, built solely on the foundations of partnership, dedication, service, and hospitality.
As American resets its international network for future growth, Dallas Fort Worth International Airport (DFW) will be the airline's major trans-Pacific hub while MIA will continue to be the preeminent hub for flights to the Caribbean and Latin America. Once government restrictions on trans-Atlantic flying subside, Philadelphia International Airport (PHL) will continue to be American's primary hub for service to Europe.
Today American Airlines is the largest airline to serve Aruba by total number of passengers carried. The airline currently operates to five out of ten hubs, including gateways Miami, Charlotte, Philadelphia, Chicago, Dallas and La Guardia, New York.
"Looking back on our history, we are proud to see how far — both literally and figuratively – we have come. We are celebrating this success with AUA Airport and our devoted staff because they are the ones who make the company what it is today," said Mr. Nelson Cortes, Country Manager for Aruba, Bonaire and Curacao. "American Airlines will continue to focus on exceeding customer satisfaction and will look forward to the future with optimism."
AUA Airport's Air Service Development Manager Mrs. Jo-Anne Meaux-Arends congratulated the Aruba based team and expressed AUA Airport's gratitude to American Airlines as a strategic partner in growing our international network and major asset to the development of the tourism industry. "We are pleased that we've reached this important milestone and we look forward to a very bright future ahead of us."