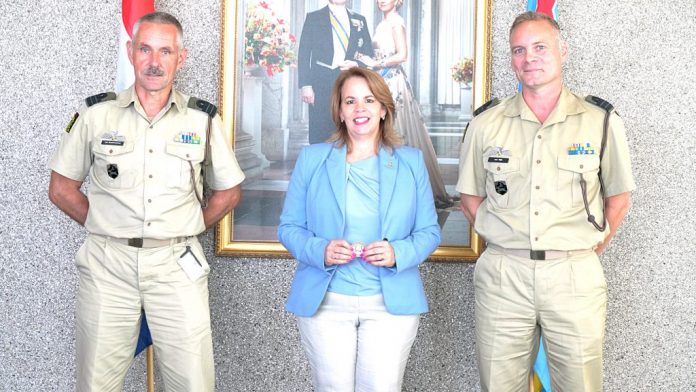 On Monday, July 18, 2022, the Prime Minister of Aruba, Evelyn Wever-Croes, met with the outgoing Dutch Marine Base Savaneta (MSKSAV) Commander and the new Commander.
Commander van Beekhuizen did lead the MSKSAV for the past three years. He is now moving back to the Netherlands, and his replacement is Marine Base Commander van Wijk.
The Prime Minister emphasized the excellent relationship between the Government of Aruba and the MSKSAV. The Government can always count on the support of the MSKSAV when needed.
It is noteworthy to state that during the leadership of Commander van Beekhuizen, MSKSAV implemented the Social Formation Trajectory for female participants. The prime minister remarked that she is very proud of this achievement. It took considerable time to assess but ultimately resulted in a successful project based on the results.
The Government hopes that the second female trajectory can soon start. They need to start promoting this trajectory to recruit more female participants for the social formation trajectory.
The prime minister wishes Commander van Wijk success with his new duties and is sure the cooperation will be excellent. The official transfer of power will take place in August.