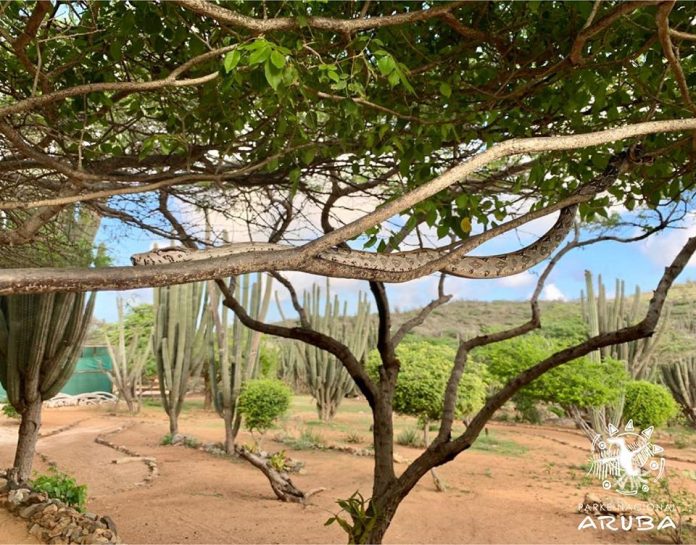 The national park Arikok is managed by the Foundation National Park Arikok (FNPA) and comprises almost 18 % of the island. Its rugged terrain, desert-like hills filled with tall cacti, breathtaking coastline and protected local flora and fauna welcome you to be explored.
There is numerous wildlife to discover like for example the sea turtle who lays his eggs on the park's beaches, indigenous reptiles include the cascabel, the santanero or Aruban Cat-eyed snake and the kododo blauw or Aruban whiptail lizard. Birds include the shoco or Aruban burrowing owl and the prikichi or Aruban parakeet. First designated as an important national area in the 1980s, Arikok National Park is home to popular hiking trails, covering all kinds of terrain from hills to gold mines, and even plantation ruins. In the national park some traditional Aruban houses in the cas di torto style can be visited.
Snakes.
FPNA strives to create awareness amongst the community on the different snakes that reside in Aruba. As you may be spending more time in your garden during the current crisis, it is crucial to recognize our native species and the invasive species. The most common snake that you can encounter in your garden is the Santanero, native to Aruba and Venezuela. A Santanero in your garden will keep away the insects, toads, frogs and lizards. Our Santanero is smaller than 50 centimeters, has a dark and light brown-banded pattern and a plain white belly. Its head is round or oval-shaped. If you encounter a Santanero around your garden, please do not harm this species.
Perhaps the most noticeable snake that you can encounter in your garden is the Boa constrictor, an invasive species. It was introduced to Aruba and is consuming much of our local fauna. The most distinctive feature of a Boa is its pattern of dark brown and tan blotches which become red toward the tail. The belly is white or cream-colored with numerous black spots. If you encounter a Boa around your garden, please make sure that it is a Boa and not a Santanero. If you have any doubt send us a photo through our Facebook messenger to verify the species. In case it is a Boa, a Park Ranger will contact you.
The Arikok Park is closed until further notice due to the Corona crisis, for more information you can visit their Facebook page and website.