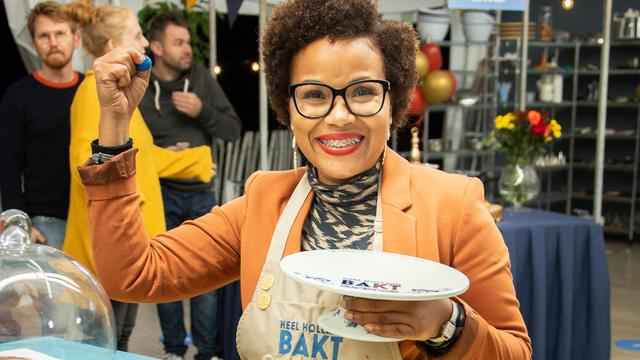 "I started shouting, because it is a relief when you suddenly hear your name. A very strange feeling, it seems like you are taking a very deep dive in the water and you have to hold your breath for a long time. And then the moment when you are upstairs again and take the first breath of air," says Aruban Elizabeth who is the winner of the Dutch television show "The Great Dutch Bake Off".
Elizabeth still cannot quite believe that she has been voted the Best Home Baker in the Netherlands. When André, the TV host, announced the winner, she doesn't even realize it's about her. "André said the winner was right in front of him and nobody responded. I was in the middle, but really had no idea. It wasn't until he said "mi dushi" to me that I understood. "
The cheerful and always positive Elizabeth has shown the best with her colorful and exuberant creations. The moment she enters the competition for the first time is already profit for her. "I didn't feel at all that it was a competition with the other bakers. I stayed close to myself all those weeks and especially tried to bake with love and passion. "
Elizabeth has prepared for battle as a top athlete. She now dares to admit that she has practiced the turban from the first episode at home no less than twelve times. "My neighbors have never eaten so much pastry before, but I wanted to make up for that turban. It was the first assignment and I really wanted to be there. "
Elizabeth is a real kitchen princess. She likes to bake for her family, but also for colleagues in the hospital where she works as a nurse. "I have never been addicted to certain substances, but baking can still be called an addiction. It always gives me such a euphoric feeling! It's like wrapping a present for someone. I especially like making a cake beautiful. People eat with their eyes, my mother always said that. "
Aruba is in my heart
Elizabeth shows the memories of her childhood in the "Who am I Cake". Playing under the watapana tree, on Sunday to the beach, the blue sky and the beautiful sunset. "This cake really represents who I am, cheerful, colorful and sweet. Aruba is still in my heart." Elizabeth's participation has also been noted in Aruba, as she receives many responses from her family and friends who live there. "The program can also be seen there on local cable television. And the Dutch newspaper Amigoe even wrote a piece about me."
Elizabeth was not alone in winning the contest, because she and her family have formed a close-knit team in recent months. Elizabeth is married and has four children. "My two oldest children are adults and they immediately created a group app to divide the tasks around the house. Who picks up the youngest children from school, who helps with cooking and the household. I am so grateful to them, because I couldn't have done it without their efforts. "
Head full of dreams
As a winner, Elizabeth is allowed to make her own book, a dream that has been high on her wish list for years. "I have always said that I would one day want to write a biography for other women, with the message not to give up. Because I didn't do that myself. I never expected it to be a baking book." She was born in the Dominican Republic. At a young age she immigrated with her mother to Aruba. Because she likes to help people, she opts for the nursing course. At the age of 25, she decides to continue the training in the Netherlands and board the plane all by herself. "I had a briefcase with me, 238 euros and a head full of dreams." Life in the Netherlands is difficult for her in the beginning, because she misses the warmth of the island and of course her mother and her sisters. "Sometimes I was crying in class because I was homesick and would prefer to go back the next day." But Elizabeth persists and she is proud of what she has achieved. "In the Netherlands I really matured, because I had no one here and had to manage it all myself."
Bolo di Chateau
She hopes to be able to make people happy with cake and bread for a very long time and will be working on her baking book in the coming months. There is a special cake that should not be missing: the bolo di chateau. An Aruban cake with layers of sponge cake and chocolate cream. A cake that brings her back to the warm childhood she had on the island. "I used to always get a chateau cake on my birthday and this cake started my passion for baking." Source: heelhollandbakt.omroepmax.nl.