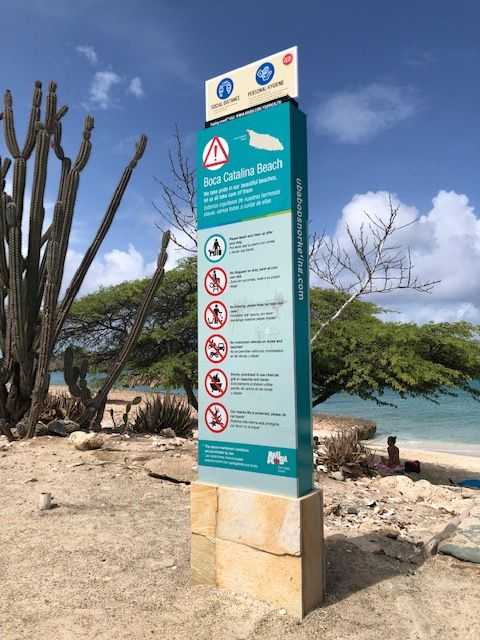 The global pandemic of Covid-19 has the entire world going into action in taking more precautions, especially towards hygiene. Because of this, the Department of Infrastructure (DOW) and the Aruba Tourism Authority (ATA) took the initiative to communicate this through public signs.
The purpose of these signs is to ensure that protocols of hygiene and health are being followed and at the same time creating consciousness to each and every one to adhere to them at all times, including when visiting tourists attractions around the island.
The existing signs placed at beaches and public places around the island have been placed there since 2017 and describe acts prohibited (by law) such as;
– Driving of vehicles on the beaches and dunes
– Destruction of turtle nests
– Littering
– Usage of a BBQ pit on the beaches and dunes
– Touching/damaging of coral reefs
The additional signs are in English and Spanish and serve as a reminder to the information of social distancing of 1.5m from the other person, importance of wearing a face mask and washing your hands frequently with soap and hand sanitizers.
All this is to maintain the number of covid-19 contamination as low as possible and better yet, to totally eliminate this.
Just as other destinations, Aruba is also undergoing a difficult time due to this pandemic. It is highly important for each and every one to follow all protocols stipulated by the different departments. Together we shall overcome this and our island will continue to flourish. For more information visit www.aruba.com.