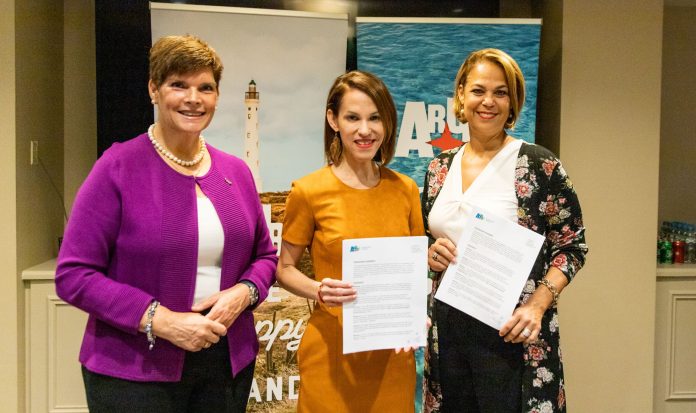 For some time already, Aruba Tourism Authority and the Aruban Olympic Committee are in conversation to sign an agreement to benefit both parties. During a press conference yesterday, Ronella Croes, CEO of ATA; Wanda Broeksema, president of Aruban Olympic Committee (COA) and Nicole Hoevertsz, general secretary of COA signed this agreement, where ATA will become a partner of COA.
This partnership is a natural one seeing that the athletes cultivated and developed by COA represent our country with dignity and it is a big promotion for Aruba, through their participation in various competitions in different countries. Not forgetting the great promotion that Aruba receives during the Olympic Games.
IN the past, ATA has contributed with the logo and uniforms of COA through an agency with which ATA worked in the past.
The Olympic values promoted by COA are completely aligned with the strategic objectives of ATA, which are among others to create wellness for the local community. In the case of COA this is by putting sport to the service of humanity as a philosophy of life, and in the case of ATA, through tourism.
ATA and COA share the opinion that investing in our people, our youth, is extremely important because they are our role models, not only when they represent Aruba internationally, but also in Aruba itself.
For both parties this is a beautiful moment, filled with positivity which creates new opportunities for our athletes, our tourism and for Aruba.