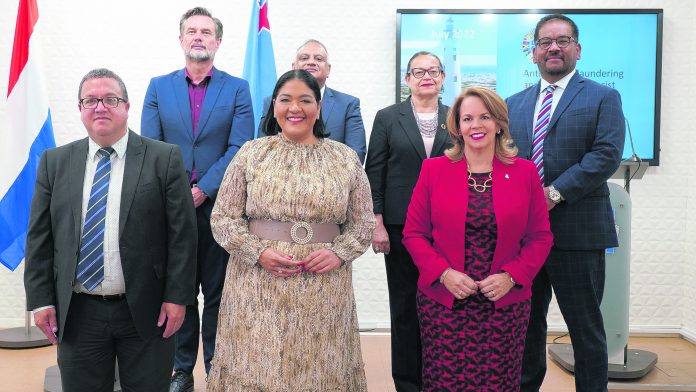 Recently Aruba underwent the evaluation of the Caribbean institute, Caribbean Financial Action Task Force (CFATF). Prime minister of Aruba, Evelyn Wever-Croes expressed that she is extremely proud of the work done by agencies in the public, semi-public and private sector in Aruba.
Last Thursday, the government of Aruba received the information that Aruba has an excellent AML/CFT regimen, which is something of which Aruba can be proud. The prime minister explained that since the government assumed office in 2017, it has been working with a steering group, which is led by Wever-Croes together with other professionals who assist the government in this. The focus of the steering group is on money laundering and financing of terrorism. Thus the excellent result for Aruba in the evaluation comes from the big effort of the professionals in the public, semi-public and private sector of Aruba.
Between years 2018 and 2020, a National Risk Assessment was carried out on money laundering and terrorism in Aruba. This is a method of the World Bank to evaluate the risk of money laundering and financing of terrorism on a national level. This was done with the public and private sector. Also the National Ordinance on the Prevention of Money Laundering and Terrorist Financing (Landsverordening voorkoming witwassen en terrorisme financiering, LWTF) was changed in 2021.
Wever-Croes explains that the preparations for the evaluation started in 2018 and the evaluation itself should've taken place in 2020, but this was postponed because of Covid. During this period, Aruba sent a lot of information to CFATF. Afterwards, a group from CFATF itself which evaluated Aruba came to perform an on-site visit between the 30th of August and the 10th of September 2021. After this, the process to write up a report started. The report was made in concept based on what the assessment team prepared and was sent to Aruba to review. After this there was a meeting on the contents to address the conclusions of the assessment team, which took place during May and June 2022.
On the 2nd of June there was a plenary meeting via Zoom, and there the report was approved.
Result of the Evaluation
Aruba was number two in the entire Caribbean for the CFATF evaluation. Bermuda was number one.
It was noted that various countries in the Caribbean have difficulty passing the evaluation, thus the result for Aruba is one that makes everyone proud.