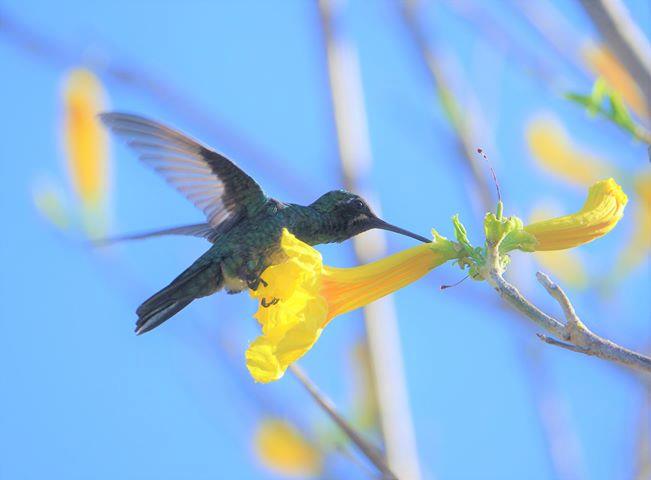 Fundacion Parke Nacional Aruba (FPNA) is looking back at a year where there were many advancements made in regards to conservation of Aruba's Nature. With the establishment of the Marine Park, and soon to be added 16+ nature areas in 2020, the conservation work to be done will be complex and will bring its challenges that FPNA will focus on during the new year.
Service Level Agreement.
Last August, FPNA entered into an agreement with the Government of Aruba, signing a Service Level Agreement (SLA). The purpose of the SLA is to reach a consensus on the tasks and efforts that FPNA is responsible for in order to reach its statuary goals. Additionally, the SLA implies that FPNA will take full responsibility with the task of conservation and protection of nature areas of management assigned to the foundation including scientific research on biodiversity which goes hand in hand with conservation education to the community at large.
Purchase of Private Land at Boca Prins.
Another positive step for FPNA this year was the purchase of a private land at Boca Prins that was effectuated last September. With such a positive result, FPNA will continue its efforts and look at the possibilities to acquire other private lands within the borders of Arikok National Park to guarantee the conservation and management of this nature reserve.
Nature and Environment Education.
During the month of December the pilot project for Nature and Environment Education (NEE) was realized. The pilot project will be implemented as part of the National curriculum for primary schools with pilot schools St. Jan Kleuterschool, Colegio Laura Wernet- Paskel, Cacique Macuarima and Scol Primario Cacique Aterima. The pilot project covers three themes: Waste, Healthy Lifestyle and Flora & Fauna. Visit our website to read more details on the pilot project.
Junior Rangers.
This year again two very successful junior ranger camps were organized for Aruba's youth of
9-12 years old. Four of FPNA's junior rangers were so lucky as to attend an informative nature exchange on Bonaire in October, courtesy of the organizer the Dutch Caribbean Nature Alliance (DCNA). They had the opportunity to engage and discuss different environmental topics with the youth of four other islands and were inspired to make a difference when back home.
Botanical Garden.
In 2019 FPNA agreed to start developing a botanical garden from the already existing collections at Hofi Shon Shoco and Cunucu Arikok. The future botanical garden will hold and display documented collections of locally relevant living plants for the purposes of scientific research and conservation, and for the education, inspiration and wellbeing of the community at large.
Shoco Conservation.
In November – for the third year in a row – the team of Shoco (Aruba burrowing owl) volunteers was further trained in Shoco conservation. Experts from the USA joined in and played a supportive role, while budding scientists from Venezuela also came to learn from our successful joint-project with the Aruba Birdlife Conservation. Numerous artificial burrows were installed all over the island, including at golf courses and the marine barracks, some of which welcomed their first baby owls this year.
FPNA would like to extend its gratitude to all employees, volunteers and community of Aruba for their support during this past year and extends its message to everyone that conservation of Aruba's nature is the responsibility of all of us. FPNA will have revised operating hours this holiday season. Everyone who would like to visit the national park is subject to a conservation fee of Afl. 5.00 for adults or Afl. 28 for a year pass, kids under 18 years are free of charge. We would like to wish everyone Happy holidays and a prosperous 2020!