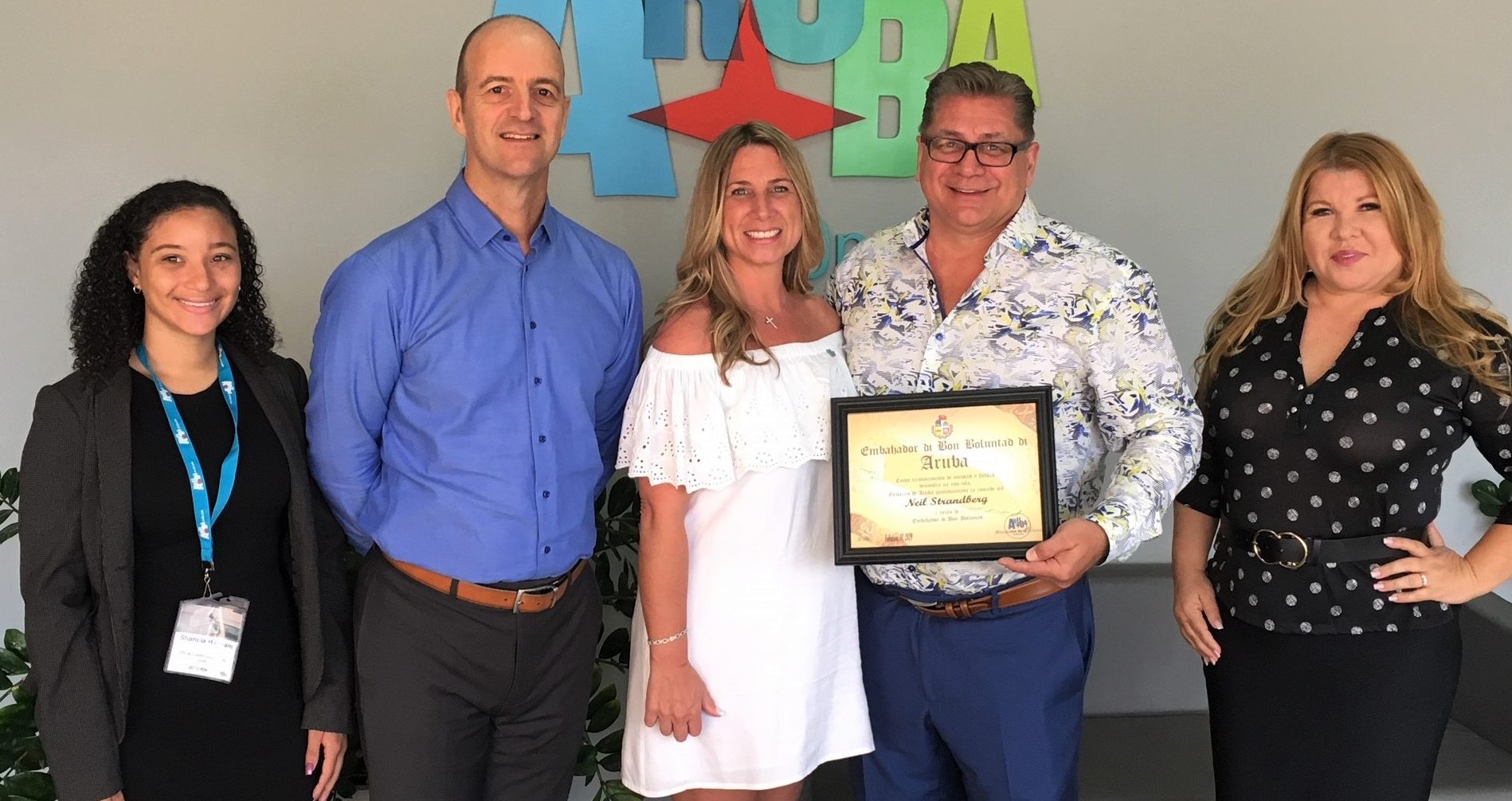 ARUBA TOURISM AUTHORITY HONORS GOODWILL AMBASSADORS MR. & MRS. STRANDBERG
Oranjestad – Recently, Aruba Tourism Authority had the great pleasure of honoring loyal visitors to Aruba as Goodwill Ambassadors. This particular certificate of 'Goodwill Ambassador' is presented to guests who consecutively visit Aruba for 20 years or more.
The honorees were Neil and Michele Strandberg from Long Island, New York and have been visiting our destination for over 25 years together with their five children. Upon the question "Why Aruba?" their answer was straight forward: "We have appointed Aruba as a 'therapeutic' destination from the first time we landed on this beautiful and friendly island". One of the many reasons for their yearly returning is the hospitality they receive from the people they met for so many years, which makes them feel more like Arubans and less like tourists. They stated that Aruba is one of the friendliest and happiest destinations they visited so far. While on vacation, they enjoy the gastronomic variety that Aruba has to offer as well as different on-island activities.
From the Aruba Tourism Authority, Destination Services Manager Mr. Patrick Melchiors together with Chairperson of the Board Mrs. Marieta Ras, Visitor Care Liaison Ms. Marouska Heyliger and Intern Communications Ms. Sharicia Hasham, a special Goodwill Ambassador Award was presented to certificate the honorees. They were acknowledged for choosing Aruba as their favorite vacation destination and as their 'home away from home'.