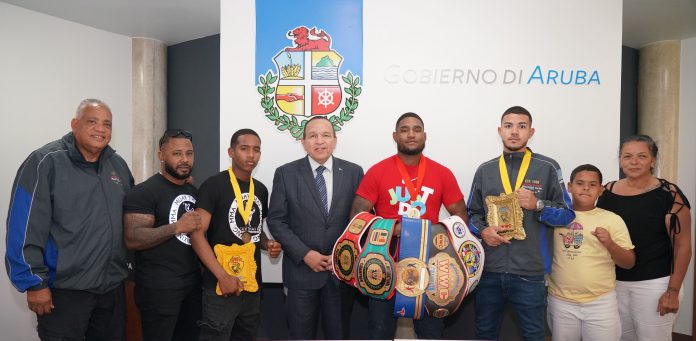 Last week, in a friendly atmosphere, minister of Sport, Mr. Endy Croes received a visit from Aruba athletes who fought in the international WWC Battle of the Grand Champion Warrior of the World Championship in Quito, Ecuador.
Present during this meeting was the president of Muay Thai in Aruba, Mrs. Rutmila Gonzalez, Stacy Hassel and Roony Boye. Some weeks ago, the athletes from Aruba had a great performance in the South American Muay Thai championships, winning various titles and the champion belt.
Minister Endy Croes, in the name of the government of Aruba, awarded the athletes a commemorative medal as a token of gratitude and appreciation for their excellent performance. The minister of Sport congratulated them for their achievement for our country.