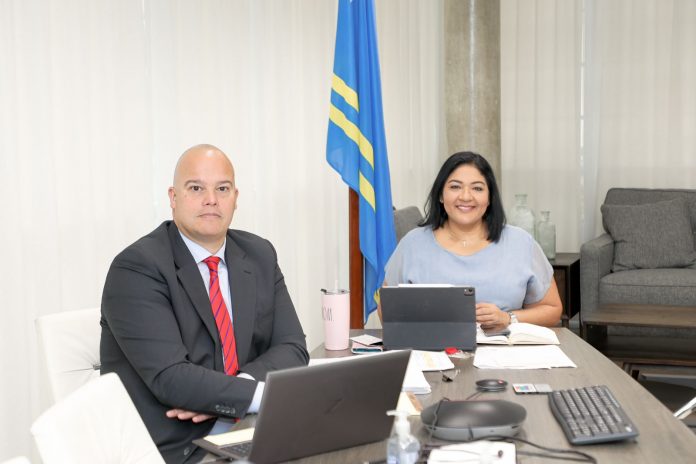 During a meeting at the ministerial level of the Caribbean Financial Action Task Force (CFATF), the regional organization to fight money laundering and terorism financing, it was decided that Aruba is becoming the co-chair of CFATF. Together with the incoming chair, Cayman Islands, Aruba will be in charge of leading CFATF for the period of 2022-2023.
Since 1990, Aruba has been greatly contributing to the fight against money laundering in the Caribbean region as one of the founding fathers of CFATF. Aruba has always supported and actively participated in CFATF and currently serves as a representative of the Dutch Speaking Countries in the steering group ofi CFATF.
Now, Aruba has the honor of also contributing as co-chair to help guide CFATF.
During the ministerial meeting, Aruban minister of Finance, Xiomara Maduro informed CFATF that for the position of co-chair, Aruba will be represented by Mr. Angelo Brete, who is the director of the Financial Intelligence Unite (FIU) of Aruba, known in the past as MOT Aruba. Mr. Brete has ample knowledge and was part of the team of professionals from our country who achieved a successful evaluation by CFATF for which Aruba was second in the Caribbean. An important achievement for Aruba that sends a strong and positive message for investors that our financial system has integrity.
Minister Maduro thanks CFATF for the trust and thanked Mr. Brete for assuming the responsibility of representing our country in the position of leadership in CFATF. The minister also thanked Mr. Marcel 't Mannetje from the Department of Legislation of Aruba, that helps coordinate and represent Aruba during the meetings of the steering group of CFATF. "Thank you for believing in Aruba", she said in a press release.