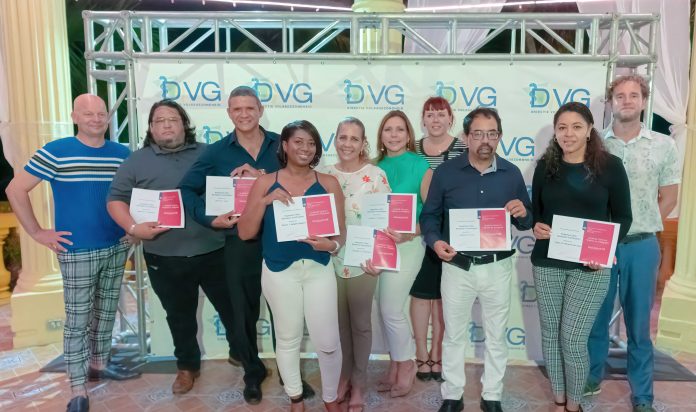 Friday night the final ceremony took place for the Ship Sanitation Certificate (SSC) at Surfside Marina. This was a conference organized by the Department of Public Health in the name of the government of Aruba.
Trainers from the Netherlands also took place in this conference for certification, inspectors of public health as well as representatives from the BES-islands (Bonaire, Sint Eustatius and Saba), Curaçao, Sint Maarten and from Aruba.
The purpose of the conference and training was to capacitate our public health inspectors in the region, teach them the practical aspect on how to make a sanitary inspection on a ship, with the goal of certifying them and that they receive their SCC. With this certification, our public health inspectors can sanitize our cruise ships, tankers and cargo ships. This is very important in order to protect our borders from communicable disease; Covid-19 reminded the entire world of the importance of sanitation.
The knowledge and experiences shared in order to achieve the certification shows the commitment in the Kingdom of the Netherlands to continue progressing in the compliance with International Health Regulations. This helps us reinforce our public health and control for communicable disease in our region.
Aruban minister of Public Health, Mr. Dangui Oduber thanked the team of the Department of Public Health as well as the team from the Netherlands, Mr. Thijs Veenstra, Mrs. Tanja Hartog and the entire Cluster Milieu & Hygiëne. "Congratulations to all who received their certificate, our borders will be in good hands", the minister said in a press release.