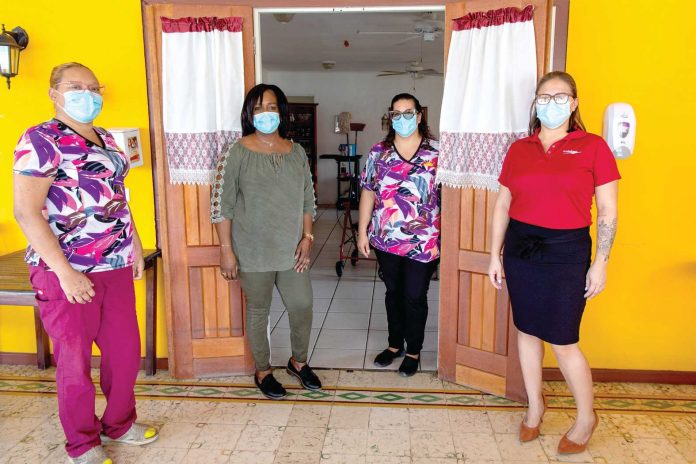 The current situation of the Covid-19 pandemic makes it a very challenging time for many organizations that depend mostly on donations and subsidy. This is the case for Foundation Ambiente Feliz who depends completely on these donations for their daily operations and to provide for the 20 clients of their care centre.  Foundation Ambiente Feliz, meaning Happy Ambiance, is a residential home for mentally challenged adults.
Aruba Bank made a special donation to the institute consisting of basic food items, hygiene and personal care products for all their clients.
Foundation Ambiente Feliz was founded 31 years ago in 1986 by Sister Philothé Simons. Simons with the help of other Sisters took care of the persons with metal limitations on the island. Due to the high demand that time, Simons managed to open a home at Santa Cruz 75 with the capacity for 12 clients under the name of "Stichting Gezinsvervangend Tehuis". In November 1997 the name of the institute was changed to Stichting Ambiente Feliz. Through the years the number of clients increased and the original home had been expanded to accommodate more residents.
More than half of the clients are above 50 years old and thus aging is an extra care. "We offer 24-hour care in a professional and caring environment. The reason that the clients live here is that it became too hard for the family to take care day in, day out. But we do aim for a warm connection with the family and they always visit and spend time here." Ambiente Feliz is the only residential home for mentally challenged together with Cas Shaburi. It is heart-warming to see the connection between the staff and the clients here, they are indeed family and the smiles on the faces of the clients are priceless. Day in, day out these people do this rewarding job in the sense of giving happiness to those who just came different into this world. But different is beautiful, everybody counts and that is what Ambiente Feliz expresses.
Aruba bank is very proud to be able to contribute to such a beautiful cause. If you want to donate to this institute too, please contact them at +297 585-8738 or by email at ambientefeliz@setarnet.aw.