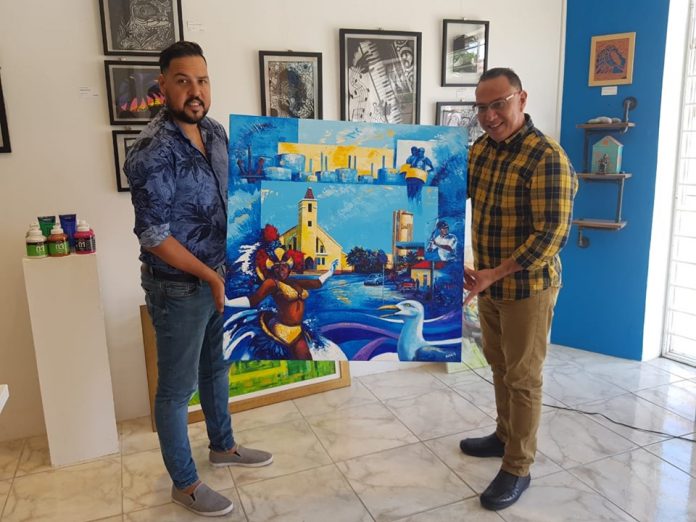 Auto-didactic painter and graphic designer Elvis Tromp, Aruban born, predominately applies the use of oil-painting technique, combining the marvelous and brilliant colors of Aruba's enchanted landscape. In 2019 Elvis celebrates his 50th anniversary in offering the general public his spectacular paintings.
Aruba's landscape, as captured by the vision of Elvis, exhales peace, simplicity, greatness and accompanied by colors that express the human warmth of Aruba's inhabitants.
In a very unique mode Elvis depicts the 'cunucu', the fisherman, the abandoned houses, birds, flora and fauna in impressive colors. Aruba Art Fair always focuses on the artist and allows the artist to dedicate his artistic expression completely to the creation of the branding of Aruba Art Fair.
Studying the thoughts of the artist he put into the chosen art piece for Aruba Art Fair 2019, we may observe the presence of San Nicolas in full extend. Aruba's famous Carnival was born in San Nicolas and therefore here the most spectacular costumes originated. The Church of San Teresita, built in 1929, may be considered as one of the most precious churches in Aruba, celebrating its 90th anniversary this year. The iconic Watertower, now the home of the Industrial Museum, constructed in 1935 in the Art Deco architecture, and can be seen all around San Nicolas and surroundings, is an integral part of the illustration. The oil refinery which initiated the modern era of industrial development, is a unavoidable subject, and as a spinoff of this development the steelpan was born, with the Family Connor as the pioneers, establishing the first Steelband in 1952. Honoring those who scarified their lives for our nation during wartime, the artist has included the gigantic red anchor, placed at the entrance of the Colony. And to put the cherry on the cake Elvis has included our national hero Xander Bogaerts, an authentic San Nicolas born and raised personality.
Elvis Tromp has been the illustrator of numerous books and literary essays and has been the designer of over 50 editions of Aruba postage stamps. In this way cementing his creations in our collective memory.
Aruba Art Fair 2019 is scheduled to take place in the streets of San Nicolas on November 22, 23 and 24 2019. Starting at 7.00 pm each evening, where you may experience art, music, dance and more than 150 artists presenting their art in a singular way. 2019 will be the beginning of the celebration of the first lustrum of the Aruba Art Fair and will culminate in the project known as the Hooiberg 2020 project, in which the 600 steps of the Hooiberg will be turned into the largest mosaic artwork in the Caribbean.
Partnering with the Aruba Art Fair are Aruba Tourist Authority Sui Generis, Kooyman Aruba, Department of Cultural Affairs of Aruba, AIB (Aruba Investment Bank).
For more detailed information visit our website www.arubaartfair.com or call us at the Artisa office at 5842424.