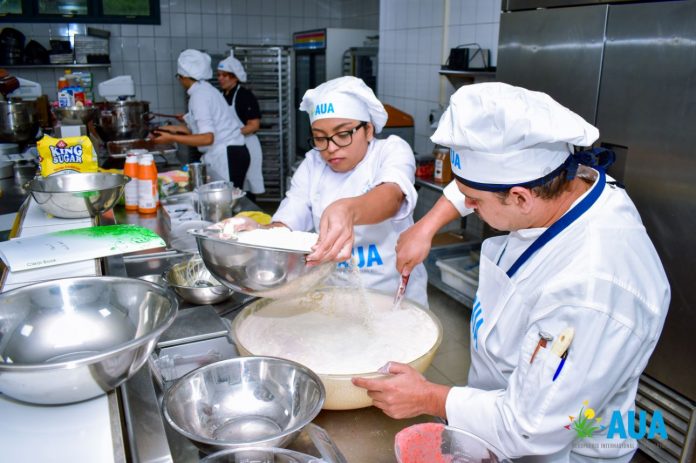 Aruba Airport Authority N.V. (AAA) in collaboration with EPI Hospitality & Tourism Unit held the 1st Aviation Cake Baking Competition which took place on Sunday, October 13th, 2019. A total of 10 teams consisting of 2 EPI students each, competed and were part of an Aviation Cake Bake-Off to become the winner of a brand new baker kit.
The first part of the competition took place on Saturday, October 12th, 2019 where each team had a maximum of 2 hours to bake their cakes in preparation for the main competition the next day. All Aruba Airport Facebook followers were able to tune in live at 10:00 AM to watch the competition until 8:00PM when the winners were announced.
On Sunday, the 10 teams were officially introduced and were asked to stand at their assigned stations in EPI H&T's kitchen where the competition started at exactly 10:00 AM. The teams received 5 hours to cut their cakes and prepare and create all their cake decorations. At exactly 3:00 PM, the time was up and all cakes were transported to Aruba Airport's US Check-in Building where the main judging event took place.
During the live streaming of the event on Aruba Airport's Facebook page, each team had 2 minutes to present their cake to the judges who consisted of professionals in the baking industry as well as known persons in the tourism and aviation industry. The judges were able to taste the cakes and score the teams based on their creative ability, overall appearance, texture, taste and flavor.
At the end of the competition, the top 3 teams were called forward to announce the winning team. The Bronze Whisk Winner (3rd place) were Jahrmael White & Requelle de Weever, Team Champions. The Silver Whisk Winner (2nd place) were Aneudy Liriano & Garrick Tromp, Team Dushi Gateway and the Gold Whisk Winner (1st place) were Mariel Willems & Michelle Fitz Verploegh, Team Pixies.
AAA would like to congratulate all 20 students who participated at the 1st Aviation Cake Baking Competition and would like to thank the dynamic team of EPI Hospitality & Tourism Unit and all volunteers who helped during the preparations and two days of the competition to make this event a successful one.q