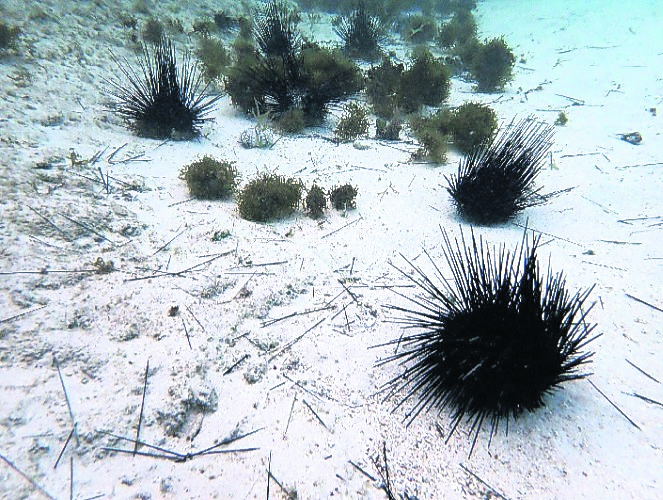 In the past days, divers spotted many diseased or dying Long-spined sea urchins (Diadema antillarum) in many coastal areas surrounding Aruba.
This problem requires the help of the community. According to Mrs. Tatiana Becker, Marine Ecologist, and Environmental Researcher, the shared observation and photos undoubtedly indicate an unknown and fatal disease spreading in the Caribbean and is causing devastating high mortality of sea urchins.
In July 2022, Mrs. Tatiana Becker conducted a sea urchin count, right before the discovery of the significant number of dead sea urchins. The count serves as the baseline to monitor the mortality rate and potential recovery of the infected sea urchins.
The high mortality mainly affects the sea urchins, which are indicators of a healthy ecosystem for the corals. Due to the ecological importance of the sea urchins as herbivores (algae eaters) similar to parrotfish, the urchin's health has implications for the tourism sector and fishermen who depend on the coastal ecosystem.
Divers have observed many sea urchins who have lost their tissue and spines in at least 2 locations in Aruba; Tres Trapi and Mangel Halto.
The pictures describe the situation encountered;
Image 1 – Healthy sea urchins attached to the surface of the rocks (Tres Trapi).
Image 2 – Loose individual sea urchins on the sand where they shed their long spines.
Image 3 – Loose sea urchins with heavy loss of spines and tissue and with their skeleton exposed
Image 4 – Fish and other marine species eat dead sea urchins
Marine conservation activist and Divemaster Albi Valdéz, BSc reported his findings on the website of AGRRA, https://www.agrra.org/sea-urchin-die-off/.
While his observations are being reviewed, the photos and urchin count indicate that the seas urchins in Aruba are not looking good.
They have planned the next count to determine the mortality percentage at Tres Trapi and the Mangel Halto.
It is essential for planning and policy-making to preserve the sea urchins.
The DNM urges all divers to report their observations and send photographs of the sea urchins to the AGRRA. It will verify the presence of the disease and its spread in our surrounding waters.q
The reports should not only include infected sea urchins but can also be of healthy sea urchins as this can be very useful for the scientists and resource managers like the DNM and FPNA. To prevent the spreading of the fatal sea urchin disease, divers are urged to disinfect their wetsuits and diving equipment properly before diving at another location.
Clean all equipment with fresh water and avoid diving in infected waters and clean water to avoid contamination. As a reminder, it is not allowed to touch or move live sea urchins or dying or dead sea urchins.