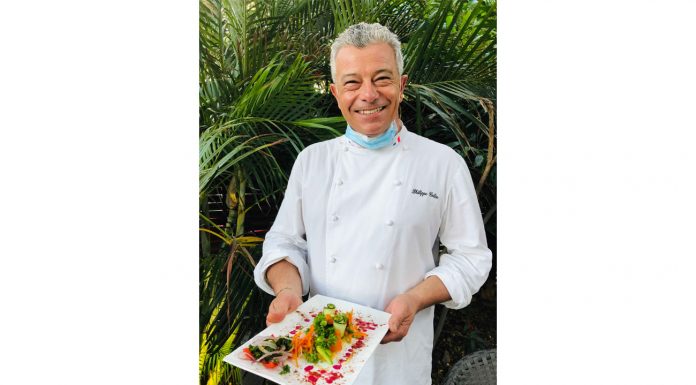 If you do not know Bohemian Bar & Restaurant yet, you will have the chance to do this tomorrow in its best performance. French Michelin star chef Philippe Colin is specially invited to Aruba to create culinary heights with a five course tasting menu presenting the ultimate French cuisine art, a unique opportunity and with limited seating. For an amazing offer ($ 95 per person including three wines) Bohemian Bar & Restaurant will make sure you remember this night on Aruba forever. Make sure you are part of Colin's gastronomic magic in the ambiance of the hippest and most stylish place on the island!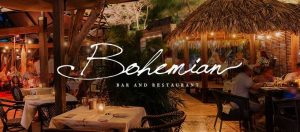 Bohemian's owners are French, as we all know the center of the culinary world in Europe. They elevate the gastronomy on the island with their restaurant and top it especially now with guest chef Colin. The laid-back restaurant with its unique secret-garden charm, is located on the corner of Barceló Resort in the center of the hi-rise frenzy. Lounge music fills the air as waiters, wearing cool suspenders and berets, serve your dinner and drinks. Bohemian is hip, stylish and delicious.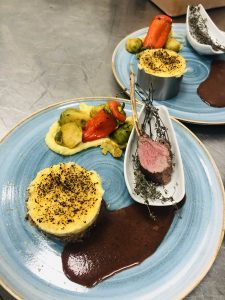 For Colin it is his first time on Aruba and he loves it. The chef has a long successful career and owned several restaurants in France among others in Paris and the Côte d'Azur. He travels the world as a culinary consultant and private chef. "Since I was little the passion for cooking was in my blood. I come from Reims, the champagne region and started working in the gastronomy world of Paris from a young age." Colin used to be the private chef of France's former president, Jacques Chirac and he had the honor to work with three Michelin star chef Frédy Girardet in Lausanne, Switzerland. In 1995 Colin earned his very own Michelin star. "It is the best, the highest ranking you can have in the culinary world." For this special night in Bohemian he will enchant the guests with French flair and flavors to remember.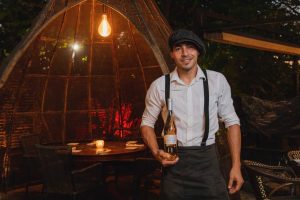 To get the taste of it, we share last week's menu, rated five stars by the guests. The night jumped off with Roasted leek and tangy iodized mango and pineapple cream followed by Poached oyster in seawater jelly, crème fraiche, shallots and caviar. The journey of delight continued with Shrimp ballotine with lobster crème and stuffed zucchini and the main course made an impressive entrance with a Duo of lamb roasted and Sheppard's pie flambé with thyme tangy blueberry coulis and sautéed garden fresh mini greens. It was a sweet and delicious goodbye with the dessert of Chestnut mousse on almond tile, pineapple brunoise with lime zest and homemade ginger ice cream. Can you really resist any of this?
Chef Colin and Bohemian will be welcoming you with open arms and you will have the opportunity to have a chat with the chef as he loves to connect with his guests. "The kitchen is my passion, but the satisfaction of the guests is my love."
Enter through the huge, wooden door leading you into a foodies Garden of Eden. Welcome to Bohemian!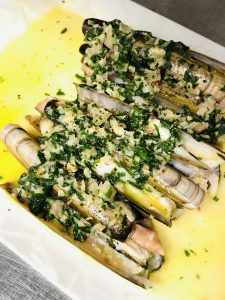 Free Parking available at the parking lot of Barceló Resort.
Make your reservations through the website:  https://bohemianaruba.com or call + 297 280 8448. Facebook: Bohemian.