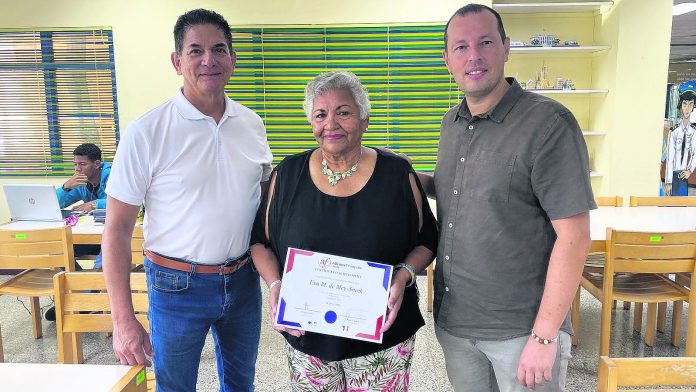 Focused on the importance of learning foreign languages, Alliance Française Aruba made a donation of books to the National Library of Aruba, which was named "French Corner Collection".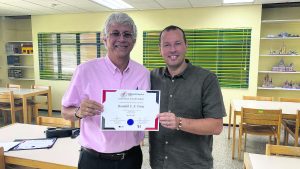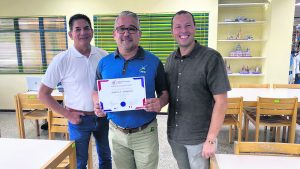 President of the organization, Erick Vinck expressed that they made a symbolic delivery of some books, because for a while already they see that the amount of books in French language is small, and as a show of gratitude for the cultural and linguistic cooperation that they received from the National Library, they donated books, considered as a nice gesture.
They donated to the National Library 40 books in French, in various levels including children, young adults, and adults, Vinck commented.
The reason behind this is for members of the Aruban community who have an interest in French language can go to the National Library and use the books. He considers that because of geographic and ethnic exchange, many countries use the French language, and its citizens have migrated to other countries, making French a more popular language alongside English and Spanish.
Vinck mentioned that members of Alliance Française Aruba automatically become members of the National Library of Aruba as well. He also said that since two years ago they have been offering basic French lessons; in the European system they use the reference frame of levels A, B and C, and in Aruba they have been implementing levels A1 and A2. They are organizing level B, which is considered basic courses, although it doesn't mean that the person cannot speak French. "With A2 level the person can speak French, and our focus is really on the practice and speaking of French", Vinck said.
He also commented that there are people who already completed the courses offered, but the focus was different, as it was more international. Back then, it was based on what can be done internationally, but in Aruba, the culture is different, which means that 80 percent of more of the participants are learning French as a hobby or to improve their language skills.
A few days ago, diplomas were handed which show how Alliance Française Aruba has been developing with these courses, which have a recognized level, and the levels vary according to the material covered and if the course is going to begin at the basics. There are some courses only for speaking and they are based on the grammar that was already covered in level A.
Alliance Française is an international organization with the goal of promoting French language and culture all around the world. It was founded in 1883 by a group which had amongst its members the scientist Louis Pasteur.
Its original name was Alliance Française pour la propagation de la langue nationale dans les colonies et à l'étranger (French Alliance for the propagation of the national language to the colonies and abroad), and now it is known as Alliance Française, with the main goal of teaching French as a second language all around the world.
Its main base is situated in Paris. In 2014, Alliance Française had 850 centres in 137 countries on all continents.