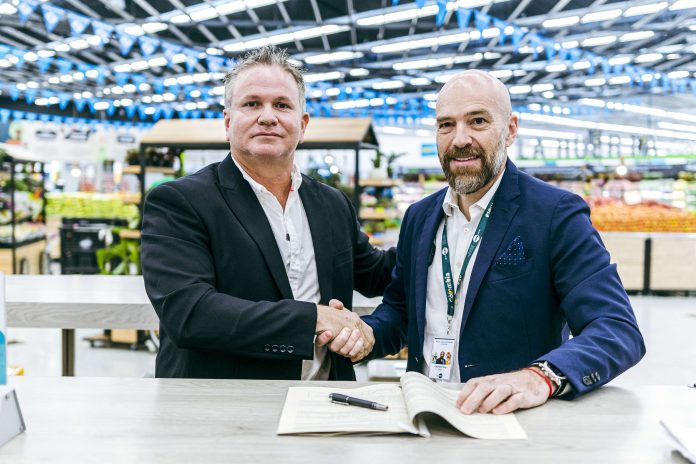 ORANJESTAD – Do It Center is ready for a new challenge that will offer its clients and the Aruban community in general a variety of products. Exito and Do It Center Aruba signed an agreement for a strategic alliance!
Frans Ponson, manager of Do It Center, said that this agreement is something very big and certainly something new for Do It Center. Everyone can remember that the company started as General Store, and was a small company. However, the Ponson family continued investing throughout the years and reached a big agreement with Do It Center.
Afterwards they became the first Super Do It Center, seeing that food products are now available at the store.
Now, they have signed with a big group, Exito from Colombia, which forms part of the Casino group from France. This agreement will allow Do It Center access to different products from around Latin America at a more affordable price. Frans Ponson also commented that they will have direct contact with the factory in case there is the desire to create a specific product for Aruba.
This means that Super Do It Center has reached a bigger position offering more options and possibilities for the people of Aruba.
Laurent Guy Zecri, Corporate Manager of Strategic Alliances of Grupo Exito, explained that the company is a Colombian enterprise with French financing, and currently they are the biggest retail group in Colombia, employing about 37,000 people. For Aruba, this agreement is important because it will give us access to a new market, seeing that Aruba purchases from the United States or Europe. The production capacity is a lot cheaper and this might provide relief from inflation.
At Exito you can find everything you need, from food, clothes, alcohol, technology, beauty products and pet supplies. Aside from this, you can also find products for your home.
Exito was founded in 1949 and today it manages 2606 stores all around Colombia, Uruguay and Argentina. They employ more than 40,000 workers.
Eric Ponson started his commercial history in Aruba many years ago as a worker at General Store, a company that exists for more than 90 years. At one point he purchased the business of electronic products. In 2010, he opened the first Do It Center in Camacuri, known as an international brand of a Hardware Store, while in 2017 Super Do It Center was created, the first in the world, combining a hardware store and a supermarket. The store, which nowadays employs over 200 workers, will continue with the same concept, only adding the Exito lines of product in the variety offered to customers.
The Ponson Family is convinced that this way they can offer more and better products at a more competitive price.