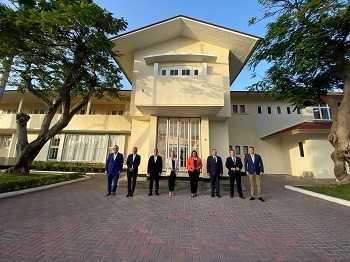 During a press conference on August 9, 2021, Prime Minister Evelyn Wever-Croes announced the list of ministers that comprises Cabinet Wever-Croes II.
After two months of the formation of the new government, Aruba now has its new ministers for the next government.
Ministers Cabinet Wever-Croes II
Minister
Portfolio
Political party
Evelyna C. Wever-Croes
Minister of General Affairs, Innovation, Government Organization, Infrastructure and Spatial Planning, also Prime Minister
MEP
Geoffrey B. Wever
Minister of Economic Affairs, Communications, Sustainable Development
RAIZ
Ursell M. Arends
Minister for Integrity, Nature, Transport and Care for the Elderly
RAIZ
Xiomara J. Maduro
Minister of Finance and Culture
MEP
Rocco G. Tjon
Minister of Justice and Social Affairs
MEP
Glenbert F. Croes
Minister for Labor, Integration and Energy
MEP
Danguillaume P. Oduber
Minister for Health and Tourism
MEP
Endy J. H. Croes
Minister of education and sports
MEP
Vanessa Tjon-Kock, the current Chief of Police and wife of Mr. Tjon, will leave her function temporarily during this cabinet period and will hold another position. This is to avoid any impression of conflict of interest and is essential in the framework of integrity.
Guilfred Besaril of the MEP party will stay as Plenipotentiary Minister in the Netherlands. Especially, given the negotiations with the Netherlands and law processes in the Kingdom of the Netherlands, the continuity of his function is currently significant. His appointment follows a different procedure, and he will be sworn in one day after the ministers.
Parliament
The President of Parliament is Mr. Edgar Vrolijk of the MEP party. He will preside over parliament for the coming four years.
Due to the COVID-19 situation, the sworn-in ceremony will be different. It will take place at the Cas Ceremonial of the Governor and will be transmitted. Next, the ministers will head to the government building for the first meeting of the Council of Ministers. Council of Ministers will approve the assignment of the Plenipotentiary Minister, for him to be sworn in later.