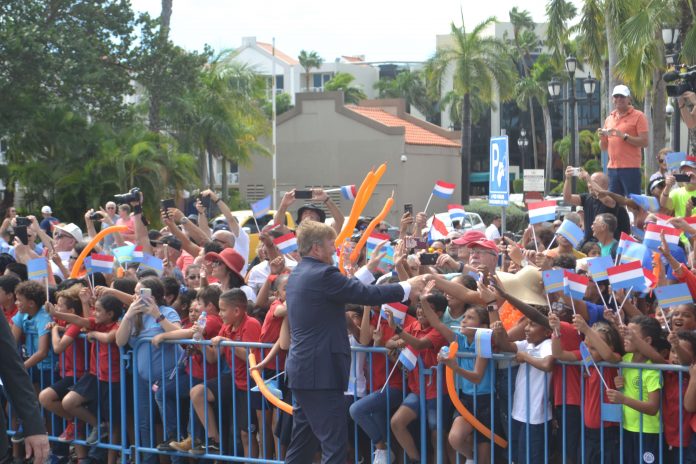 Yesterday morning, the people of Aruba lined up the streets by the Wilhelmina Park to greet the royal family who are currently on a tour of the Caribbean part of the Kingdom of the Netherlands.
King Willem-Alexander, Queen Maxima and Princess Amalia were warmly received by people waving flags of Aruba and the Netherlands and wearing the bright orange color of the House of Oranje-Nassau.
The children were the most excited to see the royal family come by and greet them. More than a thousand children from various schools around Aruba gathered in front of the building of Parliament and the seat of Government to meet the King, Queen and Princess, who walked from the Wilhelmina Park accompanied by His Excellency the Governor of Aruba, Alfonso Boekhoudt, the Royal Visit Commission, the security protocol and different marines who were present.
About 180 children from the Leerorkest – learning orchestra – gave a beautiful musical presentation for the royal family, who were delighted by their musical talent. This was followed by children singing group Muchanan Sabi – Smart Children – directed by Edselyn Figaroa who sang and danced, and finished with an Aruban carnival song.
Following this warm welcome, the royal family entered the government building accompanied by Dutch Secretary of State for Kingdom Relations, Alexandra van Huffelen, the prime minister of Aruba, Evelyn Wever-Croes, ministers and the committee in order to have a meeting with the Cabinet.