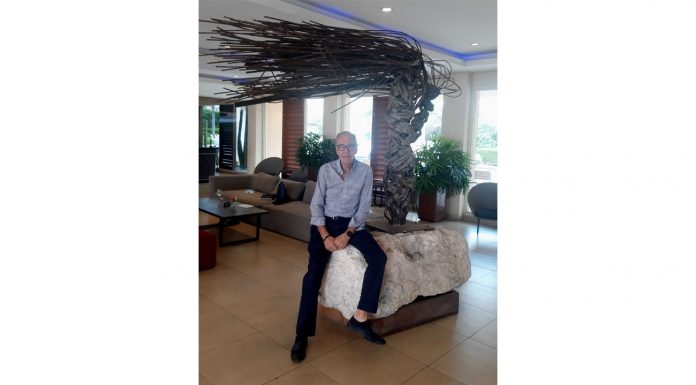 Alex Nieuwmeyer, Managing Director of Divi Resorts Aruba passed away on the 26 of April 2021 in Aruba at the age of 69. As Managing Director for Divi Resorts Aruba, Nieuwmeyer oversaw five properties on the island of Aruba, with a special focus on the Divi & Tamarijn Aruba All Inclusives. A visionary leader and preeminent hotelier in Aruba, Nieuwmeyer spearheaded the success of Divi & Tamarijn Aruba All Inclusives and leaves behind an extraordinary legacy of personal relationships, community service and stewardship.
Nieuwmeyer's 27-year tenure was the driving force behind the properties' continued success. With incredible attention to detail, Nieuwmeyer's vision is reflected in every touchpoint of Divi & Tamarijn Aruba All Inclusives, including design, culinary offerings, guest experiences, programming and more. Nieuwmeyer is most remembered for being hands-on in all aspects of the resorts' daily operations, as well as long-term initiatives, and his commitment to the resorts is most apparent in his leadership style. A beloved and respected figurehead of the 'Divi family,' Nieuwmeyer always took time to mentor team members, some of whom stayed with the resorts for over twenty years and went on to leadership roles within the company. Most recently, he ushered the resorts through the COVID-19 pandemic without having to lay off a single employee, while successfully completing a multi-million-dollar renovation of the Tamarijn Aruba All Inclusive guestrooms.
In addition, both properties have received numerous awards and accolades under Nieuwmeyer's stewardship, including the Islands All Inclusive Awards, TripAdvisor Certificate of Excellence, Hotels.com Loved by Guests Award and Family Vacation Critic Award. Divi & Tamarijn Aruba All Inclusives also recently received Gold in the Travel Weekly Magellan Awards for its eco-friendly and green initiatives, a passion project championed by Nieuwmeyer.
Through his unwavering dedication and singular vision, Nieuwmeyer's name has become synonymous with Divi Resorts. His commitment to the properties as both a company and a family is felt by the team and its guests, as well as the entire island of Aruba and beyond. Throughout his time working for Divi & Tamarijn Aruba All Inclusives, Nieuwmeyer established himself as a pivotal community member and was often called upon by the Aruban government to assist with island-wide initiatives and projects.  Nieuwmeyer was an active participant in numerous groups including the Board of Directors of Aruba Hospitality and Tourism Association, serving as President for a period.
Most recently, Nieuwmeyer received a plaque on behalf of the Aruba government presented by D. Oduber, the Aruba Minister of Tourism, Public Health & Transport for his hard work and dedication to the island and tourism industry. Nieuwmeyer will also be honored by the Aruba Minister of Tourism in an upcoming inauguration to celebrate his life's achievements. Aside from his achievements with the Aruba Minister of Tourism, Nieuwmeyer was awarded the Order of Orange-Nassau, a knighthood on behalf of the Dutch King, in 2020.
Born in Amsterdam to a family with a background in the medical field, Nieuwmeyer forged his own path by pursuing a career in hospitality and tourism. He studied at the Hotel Management School Maastricht in Limburg, The Netherlands before spending time in New York City as the general manager at the five-star boutique hotel, Doral Park Avenue and in Boston as a successful restaurant owner of Devon on the Common. The skillset he developed as both a general manager and restauranteur in the United States were brought with him to his role at Divi Resorts in Aruba. His extensive experience was key in the successful expansion of the all-inclusive restaurant offerings at the Divi & Tamarijn Aruba All Inclusives, as well as the opening of some of the island's most acclaimed restaurants, including Windows on Aruba and Fusion Restaurant Wine and Piano bar.
Outside of work, Nieuwmeyer was a skilled sailor and also an accomplished artist with many of his works displayed throughout Divi & Tamarijn Aruba All Inclusives. Nieuwmeyer is survived by his wife, Barbara, and children Jessica and Zoey. A private funeral ceremony is to be held for family and friends.
For those who wish to send condolences, they can do so online at www.memoriesforalexnieuwmeyer.com.
The Alhambra ballroom will be open for Divi Resorts and Divi & Tamarijn Aruba All Inclusives team members to sign a condolence register and pay their respect between 9:00 a.m. – 5:00 p.m. on Friday, April 30. In addition, a driving procession will also take place on the morning of Friday, April 30 beginning at 8:30 a.m. with stops at Divi Aruba Phoenix Beach Resort, Alhambra Casino and Shops, Divi Aruba All Inclusive, Tamarijn Aruba All Inclusive, Divi Village Golf & Beach Resort and Divi Dutch Village Resort for team members to pay their respects.