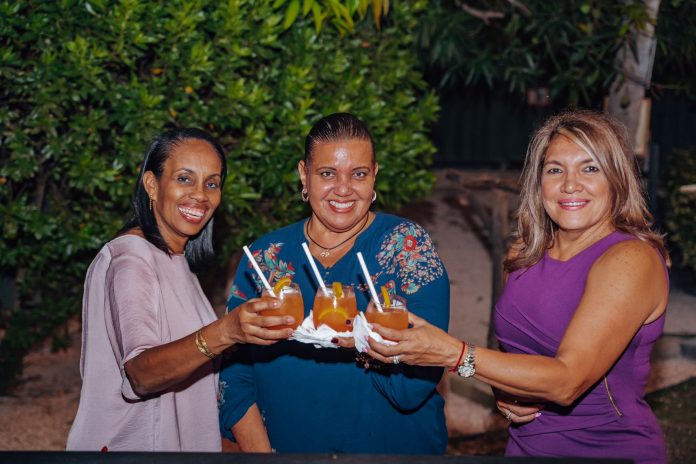 On Friday March 18th, Hilton Aruba hosted a multi-tiered event, designed to delight past and future clients, as well as members of the local media.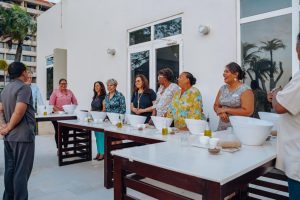 The event began with an arrival reception in the main lobby, including a welcome drink, and evolved into a sensory collage of experiences, impressing guests with the high quality of service and the level of personal engagement between Team Members.
To fully experience the afternoon, guests were split into three groups, with specific interactions from eforea spa team, the executive chef and the master beverage mixers of the resort.
At the spa terrace, the invitees made their own scrub. On the beach, under executive Chef Olivier's guidance, guests learned to make an easy shrimp coco-mango ceviche with a veggie option. Under Mira Solo Lounge's waterfalls, the master beverage mixers taught guests how to make a true Aruba Ariba, according to the original recipe, created at the resort in 1963, by bartender Juan "Jocky" Tromp.
Guests then completed the evening at the south pool, transformed into a lounge, illuminated simmering blue, over gourmet hors d'oeuvres and open bar, with live music, for a tropical evening under the stars.
Many local companies partner with the Hilton Aruba Resort & Casino to accommodate and entertain their visiting dignitaries and guests, organizing seminars and dinner parties, graduations and fairs, banquets and accommodation, and demonstrating their loyalty to the Grande Dame of Palm Beach.
The event, tailored to be interactive and engaging with each guest, was orchestrated in their honor, as a token of appreciation for past and future business.
"We always want to showcase what we are capable of doing," said Raynold Semeleer proud of the resorts' events, banquet and culinary team "and we hope that our loyal corporate clients will continue to bring us their special events, year round."
Though these past two years have been affected by uncertainties, challenges and changes in tourism and hospitality, The Hilton Aruba Caribbean Resort & Casino is as determined as ever to reconnect with members of the local community, and the resort is grateful for their participation in the Taste of Hilton Aruba event.