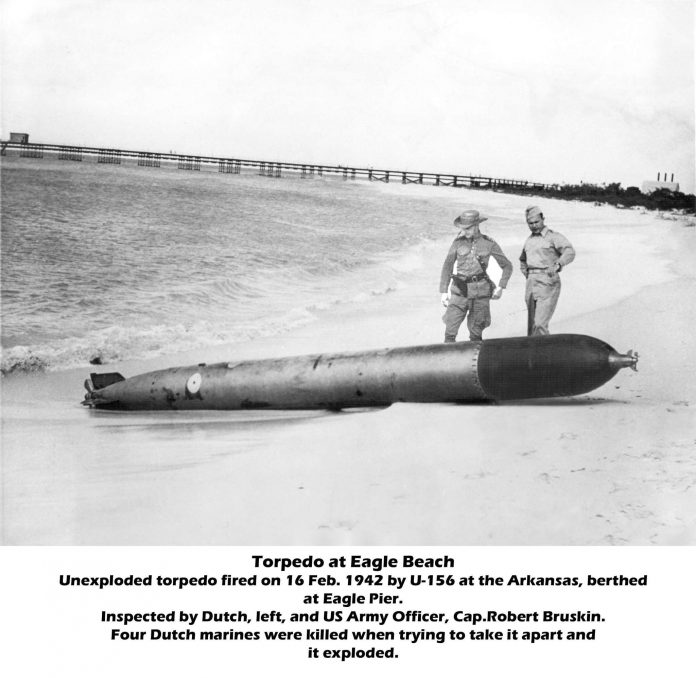 (Oranjestad)—On February 16th, the Aruba National Archive organization commemorated through social media the 81st anniversary since Aruba was directly confronted with the dangers of World War 2 when an attack was executed on the island.
In a publication online, the Aruba National Archive organization announced that they have interesting information on the website https://coleccion.aw/guera about an incident related to the torpedo attack on the Eagle Beach Pier on February 16th, 1942. The torpedo was a U-156 from Arkansas. This artifact was inspected by the Dutch military, along with Captain Robert Bruskin from the U.S. Unfortunately, 4 soldiers were killed when the torpedo exploded during an attempt at disarming the weapon.
The archives also contain different publications about Segundo Jorge Adelbero "Boy" Ecury, who was an Aruban member of the Dutch resistance against Nazi Germany during the war. Ecury, along with his best friend Luis de Lannoy and Delficio Navarro, communicated through letters in Papiamento. They also carried out attacks on German bomb trucks and derailed trains among other things they did in The Hague. At the young age of 22, Ecury gave his life in the fight for our freedom.
Historian Mr. Dufi Kock also shared his knowledge on the Aruban history during the war, where he shared that on May 10th, 1940, German forces invaded The Netherlands. That same night, Captain Ferninand Schmidt sank his boat E.S. Antilla in the area of Malmok as to not return this to the Dutch military.
This and other interesting information on WW2 is available on the Aruba National Archive website for the public.