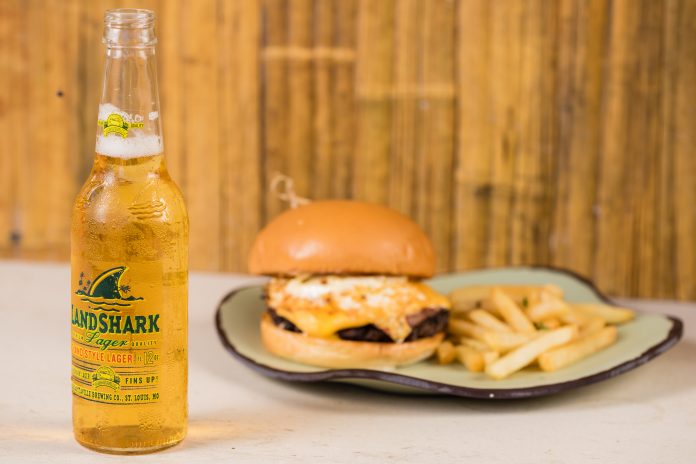 The Renaissance Marketplace opened their new other-state-of-mind 5 o'clock Somewhere Bar & Grill last weekend as well as the Christmas event Winter Wonderland. Get yourself some great energy because this will definitely make you happy. Time will be irrelevant while taking in the chill vibes of live music and lots of fun, super drinks and scrumptious delights. You simply can't miss it!
The dynamic manager of 5 o'clock Somewhere Bar & Grill, Carlton Ho Sing Loy, can't wait to show the guests why the bar has already earned its stripes in the States. "Everyone knows Jimmy Buffets bars in the States. He is a singer and producer who owns the Margaritaville chain named after his hit song 'Margaritaville'. You will find this bar in many places, but Aruba has the first stand-alone 5 o'clock Somewhere bar. "Here it is all about fun and entertainment. Big fans of Buffet are called Parrot Heads and for sure we will put them here at the bar. We will play games with our guests like Corn Hole, Plinko and Ring Games to interact and of course prices are to be won. Regular guests are familiar with the typical Buffet greeting which is the Fins Up. Yes, this is a happy experimental bar." A great choice to do something different for locals, and a must-do for Buffet fans.
Everything at Somewhere.
Ho Sing Loy's team is ready to welcome you at their dynamic place where you can expect bottle flipping and other tricks, TV screens showing sports and daily specials like Margarita Mondays, Tito Tuesdays, Wing It Wednesdays. "It is a very different menu in the sense that we have all the original drinks that belong to the Margaritaville brand like the Margarita's Who's To Blame, Uptown Top Shelf, Livin' it up and so on. Beers, wines, boat drinks, smoothies are all part of the offering, for everyone there's something at the 5 o'clock Somewhere Bar. The menu drinks and bites are well-priced inclusive taxes and service charge. Are you craving for some Margaritaville classics? Try the 5 o'clock signature burger or the nachos with tortilla chips that are layered with beef and bean chili, cheese, pico de gallo, jalapeños, guacamole and sour cream. It is a straight, yes. But after all you are in Aruba so you may feel to taste a bit of the island. Another yes as there is the Aruban Cuban, bitterballen or Chicken Keshi Yena. It is up to you! "By the way, we also got the merchandising kiosk selling T-Shirts, caps and so on."
Zugheila Lindeborg, Local Marketing Manager: "We planned building a bar for many years already and we found the right match with the brand Margaritaville. It is a different type of bar because of the chill environment combined with lots of fun." Ho Sing Loy agrees to that: "At this bar, you can just be you. It is an easy walk-in bar for everyone. The bar is large and inviting with a DJ every night and every Friday a live band on a small stage. The ambiance will rock and the fun never stops." Raise a glass and take a bite out of paradise! For more information: Facebook / Instagram @5oclocksomewherearuba.