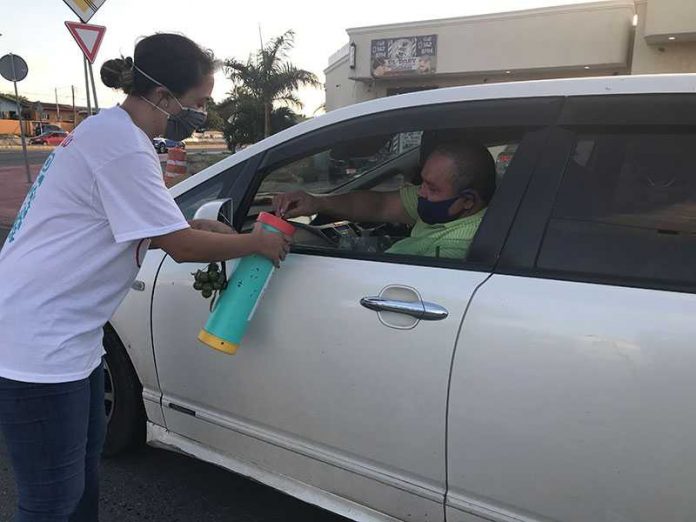 CEDE Aruba has joined forces with ten local radio stations and the national television station for a 48-hour weekend filled with fun, entertainment & fundraising.
This will take place at Elite Studios in Oranjestad Main Street, which will be open for the public to pass through and donate from their vehicle. The event is on Friday 28th of August 12pm till Sunday 30th 12pm
Ten radio stations and the national television station TeleAruba will focus for 48 hours on raising as much funds as possible for the most vulnerable in our society. 100% of the funds will be donated to FPNC (food bank), YMCA (Meals on Wheels Program) and Ban uni Man pa Cria nos Muchanan (breakfast program at schools). On Sunday the 30th of August to the total amount raised will be announced.
Happy to Give Back Street
Caya Betico Croes, the Main Street of Oranjestad, will be transformed in the 'Happy to Give Back street'. For 48 hours cars are allowed to pass through, to check different activities taking place, as well as having the possibility to donate in front of Elite studio, the place where the DJ's will be located for those 48 hours.
Initiatives leading up to the National Radio and Telethon
In the meantime, many initiatives have started already to raise funds, amongst others the possibility via Setar to donate via sms. Sms 'duna' to 222 to donate afl 1, – and 'yuda' to 250 to donate afl 5,-. At many restaurants, gas stations and shopping places around the island, people will find donation boxes where they can donate their spare change, or donate online via a QR-code on the donation boxes. Participating organizations are: Gianni's Group, Peanuts, Pizza Hut, Red Fish, The Kitchen Table, Así es mi Perú, Yemanja, Matthew's, Dushi Bagels, Manchebo, Water's Edge, The Kitchen, Suikertuin, Local Store, Muscles & Lungs, Kooyman, Paradera Gas Station, Aruba Happy Rentals, The Specialists, y Citgo San Nicolas. Over the last weeks, volunteers of the Happy to Give Back initiative collected money on different roundabouts around the island and will continue these efforts till the 30th of August.
Family car rally 
The Happy to Give Back Campaign has inspired many people to join, including Eugene Kingsale – Aruba's very own MLB player – who will be organizing a family car rally, on Sunday, August 30, 2020, from 8AM – 12PM. Families of max. 5 can register for free and will receive photo and video tasks to complete. A safe and fun way for families to join the cause. Register via Whatsapp: +297 566 1595 and include family name & license plate number.
Inviting companies to join
We invite every organization to create their own initiative, for example by donating a percentage of the revenue to Happy to Give Back, set up an employee-program, or become a partner during the radiothon and buy one or more of the 48hours. If you are interested to join The Happy to Give Back National Radio & Telethon, please call CEDE Aruba at +297 582-7666 or send an email to info@happytogiveback.com.We believe together we can make a real difference.
About CEDE/Happy to Give Back
CEDE Aruba will make sure that 100% of the donations are used by local non-profits whose efforts are consistent with the Happy to Give Back campaign. CEDE Aruba is a dynamic community foundation, supporting nonprofits in Aruba since 1986, and CEDE performs its duties without taking any money from the donated funds. CEDE will coordinate the efforts among the local volunteer groups so as to reach the most people possible with the greatest impact and not duplicate efforts. Also, CEDE will check upon the quality and transparency of the finances of those receiving your charitable donations. This way you can be assured that the donations will hit its goal.