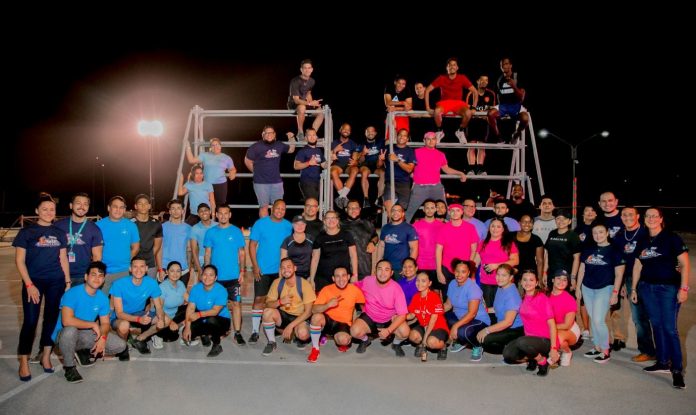 Aruba Airport Authority N.V. (AAA) for the 2nd time organized an event with the aim to bring airlines and ground handlers together in a fun and team building activity after a long work day at the airport.
This year, the Air Service Development team, together with Funstacle Masters prepared a fun, yet challenging course for all the ten teams to complete. Each team consisting of five airline or ground handler employees went head to head in an extremely fun obstacle course.
"We value the hard work and dedication that each of the airline and ground handling employees put into their daily jobs at the airport. We are aware that processing thousands of passengers every day at our airport can have its challenges and be quite stressful at times, but these efforts are not unnoticed by AAA. It's with pleasure that we organize such stress-free events to encourage the team spirit among the airport community/family," said AAA Chief Commercial Officer Barbara Brown during her speech directed to the participants.
Aruba Airport would like to thank Team Genair – Ramp, Team Copa Airlines, Team United Airlines, Team American Airlines, Team Delta Air Lines, Team KLM, Team jetBlue Airways 1, Team jetBlue Airways 2, Team Avianca and Team Aruba Airport for their participation and congratulates Team Genair-Ramp for being the 1st Airport Funstacle Challenge winners and Team Aruba Airport who finished in 2nd place, while Team Avianca finished 3rd.
The successful and fun Airport Funstacle Challenge will be back next year! q