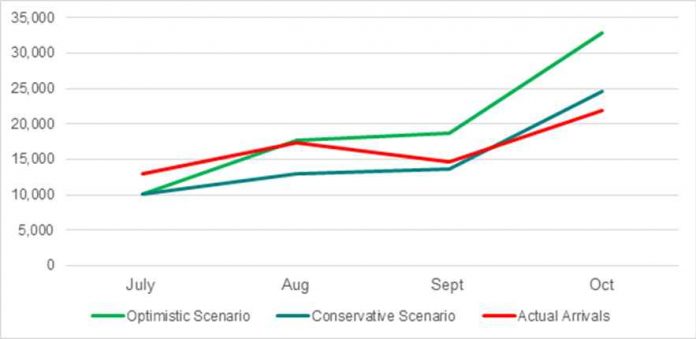 Aruba Tourism Authority (A.T.A.) wishes to inform the community upon the actual situation in the field of tourism on our island.
Tourism 'stay-over'
During the month of October 2020 our island welcomed a total of 21.882 'stay-over' visitors. 20.403 persons of this group came from the United States of America, while 1.041 visitors flew in from European countries. 438 tourists were from other countries in the region. It has to be taken into consideration that the borders with Latin-American countries are still closed, these will be re-opened as from coming December 1st. When we compare this result with the expected optimistic and conservative scenario, we can see that the result shows an increase in comparison to September, yet still is under the expected conservative scenario.
Visitor and accommodation
36.6 percent of the visitors stayed in a high-rise hotel and 6.8 percent booked their accommodation at a low rise hotel. 38.5 percent choose for a time-share booking and 18.1 percent preferred alternative accommodation. The age of our visitors in the past month was between 30 and 39 (4.852) and 50 and 59 (4.434).
Experience of our visitors
Since the re-opening of our border, the evaluation of their vacation by our visitors increased. This was measured by means of the comments that visitors left on more that 100 'review sites' like TripAdvisor. The general score that tourists gave to Aruba with regards to the satisfaction was a 9.34 (ranking is between 1 as lowest and 10 as highest). This is an increase in ranking in comparison to the period before COVID-19 as the average then was 8.83.
Cruise tourism
The cruise industry is paralyzed ever since COVID-19 made its entrance and up to today there is still no outlook to when the operations will be re-started within the Caribbean. The industry is pending the Centers for Disease Control and Prevention (CDC)' approval and recommendations regarding the COVID-19 protocols that will be valid for the cruise industry. The situation of the ships that you might have seen in Aruba's port is called a 'warm lay-up' meaning the ships are standby in case there is a green light to start operations again. This event produces a certain income to our economy but only a skeleton crew is on board of the ships and they must keep strictly to the local and international pandemic protocols.
Tourism credits/Central Bank of Aruba
With approval of the Central Bank of Aruba the 'Tourism credits' (formerly names 'Tourism receipts') for the first quarter of 2020 has contributed with AWG 1.017.9 million to our economy which is 7 percent less than the same period in 2019. Logically this is due to the pandemic where Aruba also closed her border temporarily from March to July. Equal to other destinations our island is experiencing a challenging time and therefore it is important to follow the protocols introduced by the official organizations. Together we can overcome and make sure our island and tourism continue to flourish.