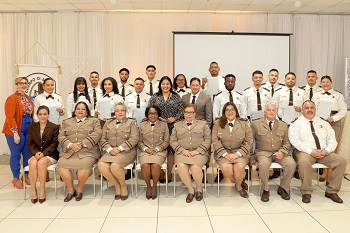 On March 24, 2023, the Minister of Finance, Mrs. Xiomara Maduro, attended the graduation ceremony of 15 newly graduated customs officers Import Duties and Excises.
The updated course started in 2021 and was no walk in the park. During 16 months, the Customs officers in training had to study and work under the guidance of experienced customs officers.
"Officers, you should be very proud of the certificate that you received since it does not only show that you completed the course but also shows your discipline, perseverance, sacrifice, and efforts," the Minister stated.
Customs Aruba now has 15 new Custom officers. As the economy of Aruba is recovering, there is more investment and import of goods. The customs department must be better prepared to cope with the daily demands.
On behalf of the Government of Aruba, Minister Maduro wished the following customs officers the best in their careers:
Jean Britus;
Joskermin Comas Andujar;
Boutros Frangie;
Billiardo Galvis Lozano;
Le-Andro Kock;
Eileen Koolman;
Roland Lacle;
Kay-Shaun van der Linde;
Anthony Rasmijn;
Lishenco Scholtz;
Ariathne Tromp;
Cathline Wernet.
A special shout-out goes to the best graduates:
July Saenz Marin;
Victor Fingal;
Jeanny (Shani) Binda.