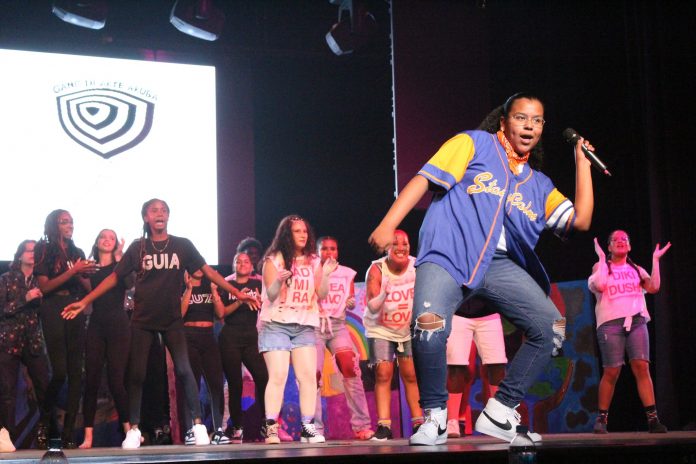 Last week at the Cas di Cultura Aruba the successful final of the youth competition "Gang di Arte" – Art Gang – took place, celebrating their 15th anniversary.
All participants had to come up with a creative and original work with the central theme: Hidden Talents.
A total of 15 groups participated in the pre-final that took place during the Aruba Art Fair during the Performance Art Program dedicated to Youth, a successful activity that took place during that weekend, when the jury selected 10 groups to go on to the final.
The participants that qualified for the final were:
1. Alysa Brete with Arte Visual & Fotografia;
2. Naomi Arrindell with Poesia;
3. Dance group The Fearless Four with Shannee Toussaint, Beverley Elliott, Sheri Godet and Xiandrény Donata;
4. Gonzalez Duo (Alakina Gonzalez Lujan / Alejandro Gonzalez Lujan) with guitar and keyboard, accompanied by Denzel Tromp and Andrew Webb;
5. Rap duo Zef Kerr & Brandon Kerr;
6. Guicel Krozendijk with spoken word and rock singing;
7. Theatre group The Fantastic Five; Juliana Rowe, Marie Jayne Vriend, Abigail Evertsz, Naomi Arrinde and Kaiden Paternina;
8. Guizza Steenvoorde with Solo Performance with spoken word and dance;
9. Dance and rap group I-LEDM; Dimitri Leonora, Isdell Hyacinme, Lenz Julien and Amylenne Roga;
10. Dance group No Image Dance Crew; Shäindra Ashby, Shantal Arzuza Avila, Arzuliane Arzuza Avil, Dinaly Yarzagaray and Alysa Brete.
At the beginning of the activity after a great dance opening presented by the participants. The youth project Op Zoek Naar Boy (Searching for Boy) presented by Catharsis Productions, a school project in cooperation with Filomena College Mavo, Colegio San Antonio, Muchila Creativo, Monumenten Fonds and the Department of Culture of Aruba, dedicated to Aruban hero, Boy Ecury.
Special guest was Stephanie Quant launching her latest production.
During the event there were also guests from Bonaire: Sulainie Martis and Reginald de Palm representing Openbaar Lichaam Bonaire, Section of Culture, Art and Literature; and Mr. Bernhard Comproe representing ACE Foundation. The reason for the presence of guests from Bonaire is that they also organize Art Gang and the winners of Art Gang in Aruba will represent our island in Bonaire in May of 2023.
The top five resulting from the evening was:
Fifth place Guizza Steenvoorde.
Fourth place (BMT) Zef Kerr & Brandon Kerr.
Third place Guicel Krozendijk.
Second place Gonzalez Duo: Alakina Gonzalez Lujan and Alejandro Gonzalez Lujan.
First place No Image Dance Crew; Shäindra Ashby, Shantal Arzuza Avila, Arzuliane Arzuza Avila, Dinaly Yarzagaray, Alysa Brete.
The Department of Culture thanks and congratulates all schools, teachers, guides, parents and youth for their great participation.