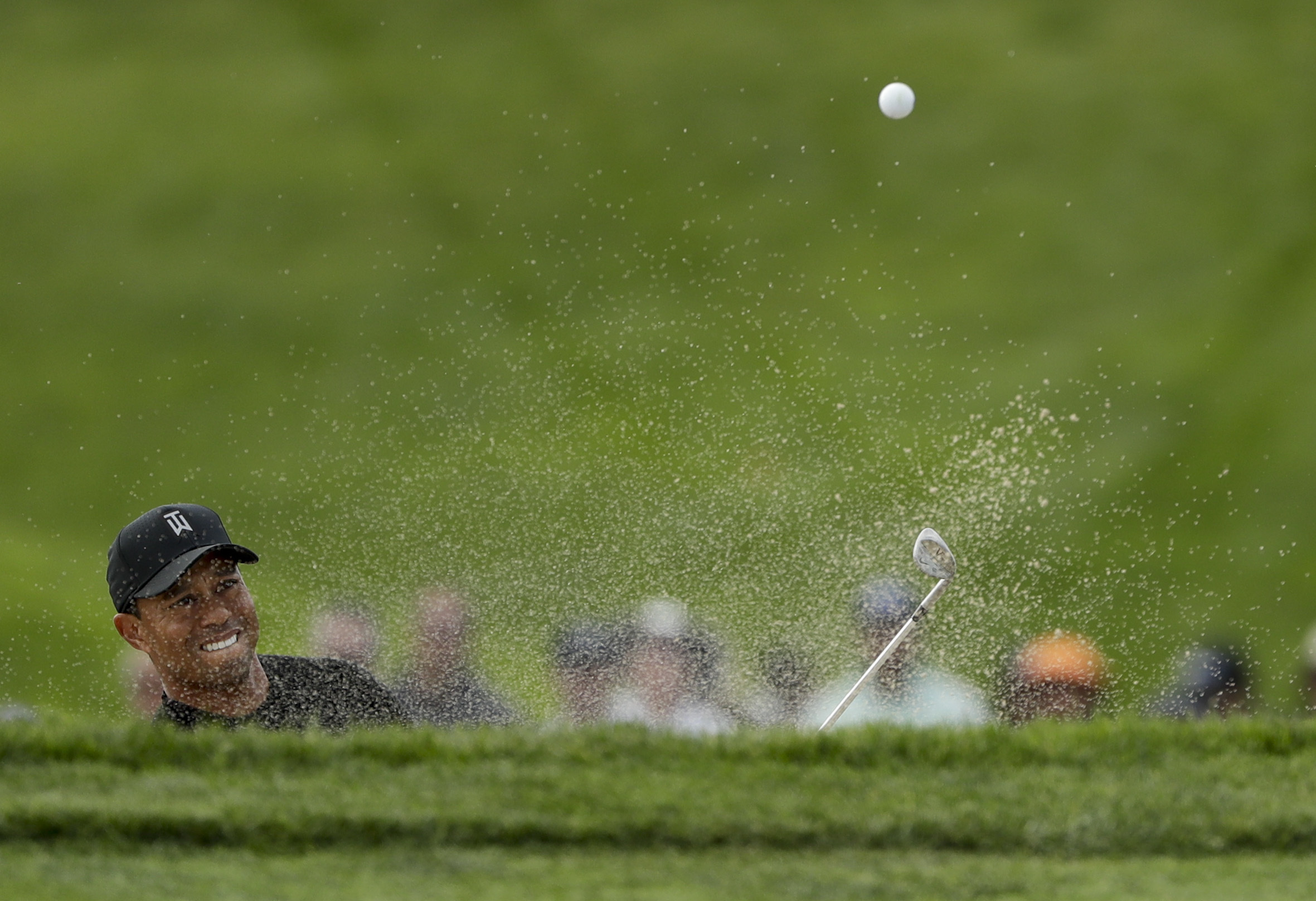 By DOUG FERGUSON
AP Golf Writer
SAN DIEGO (AP) — Tiger Woods brought big crowds back to golf, and he even produced a few big roars. In his first PGA Tour event in a year because of a fourth back surgery, Woods mixed a few mistakes with a few shots that looked familiar Thursday on his way to an even-par 72 in the opening round of the Farmers Insurance Open.
"It was fun to compete again. It was fun to be out there," Woods said.
But he was seven shots behind Tony Finau, who led with a 65 on the North Course at Torrey Pines, and Woods will play that course on Friday on the bubble to make the cut. With virtually no wind on a day for reasonable scoring, he was tied for 84th.
Woods was steady on the South Course, and at times spectacular.
His three birdie putts were from a combined 30 inches. The longest of his birdie putt was from just inside 2 feet on No. 10 that got him back to even par for the round. He was one rotation away from making a long eagle putt on the par-5 sixth.
What really made the gallery delirious was his 6-iron on par-3 16th hole that rolled toward the hole and broke just in front of the cup, settling 8 inches away. With the sun starting to set behind the Pacific, it was hard for him to see.
"It felt good, looked good, and then we were listening for some noise," Woods said.
But he needed those three birdies to offset his mistakes, and the sobering part of his return is that Woods didn't make a putt longer than 4 feet. That was on the second hole, when his approach from the bunker landed 6 feet behind the hole and went over the back into light rough.
He also gave away a shot on the par-5 13th, when he laid up from the rough and hit a wedge that drifted right and went into the bunker. He blasted that out to 3 feet, which was the hard part. And then he missed the short par putt .
Woods made his other two bogeys from greenside bunkers, both times missing 12-foot putts.
He played the par 5s in even par, and didn't give himself any other birdie chances inside 15 feet.
"It's hard to make a lot of birdies when you're not giving yourself any looks, and I didn't do that today," Woods said. "Tomorrow, hopefully, I'll drive a little better, get my irons obviously a lot closer and we get the better of the two greens tomorrow. So we'll see what happens."
But there was no mistaking his presence.
Fans lined both sides of the opening fairway in anticipation of seeing Woods, who was playing the PGA Tour for only the s econd time since August 2015.That was right before he had a second and third surgery on his back, which kept him away for some 15 months. He returned at Torrey Pines last year and opened with a 76 on his way to missing the cut. A week later, he withdrew after a 77 in Dubai with back spasms and was gone again.
Regardless of the score, Woods looked as though he's back for the long haul. The fusion surgery eliminated the pain. And while he wasn't sharp, Woods hit the ball plenty far and saw at least a little bit of golf that made him such a dominant figure.
The South Course, which hosted the 2008 U.S. Open that Woods won, typically is far stronger than the North at Torrey Pines. That's no longer the case with the North getting a makeover two years ago, with bent greens that are firm this week and narrower fairways.
The average score on the South was 71.62, compared with 71.31 on the North.
Finau birdied his opening two holes to set the tone for his round, and he wound up with nine birdies, the last one from 35 feet to take the lead.
"It played a lot tougher than it did in the past," Finau said. "I think it's just a credit to my start. From there I was just able to let the golf course come to me. The par 5s are very reachable for me hitting some irons in there. Again, I think it was just my start. I got off to a good start and was able to ride that momentum all the way through the round."
He had a one-shot lead over Ryan Palmer and Ted Potter Jr., who each had a 66 on the South.
Defending champion Jon Rahm, who can reach No. 1 in the world by winning, opened with a 68 on the South. He hit into the water with his second shot on the par-5 18th, but he saved par with a 15-foot putt.
"Just unfortunate it happened, but I made a good putt, had a couple really good putts down the stretch and had a good finish," Rahm said. "Good momentum going to tomorrow.