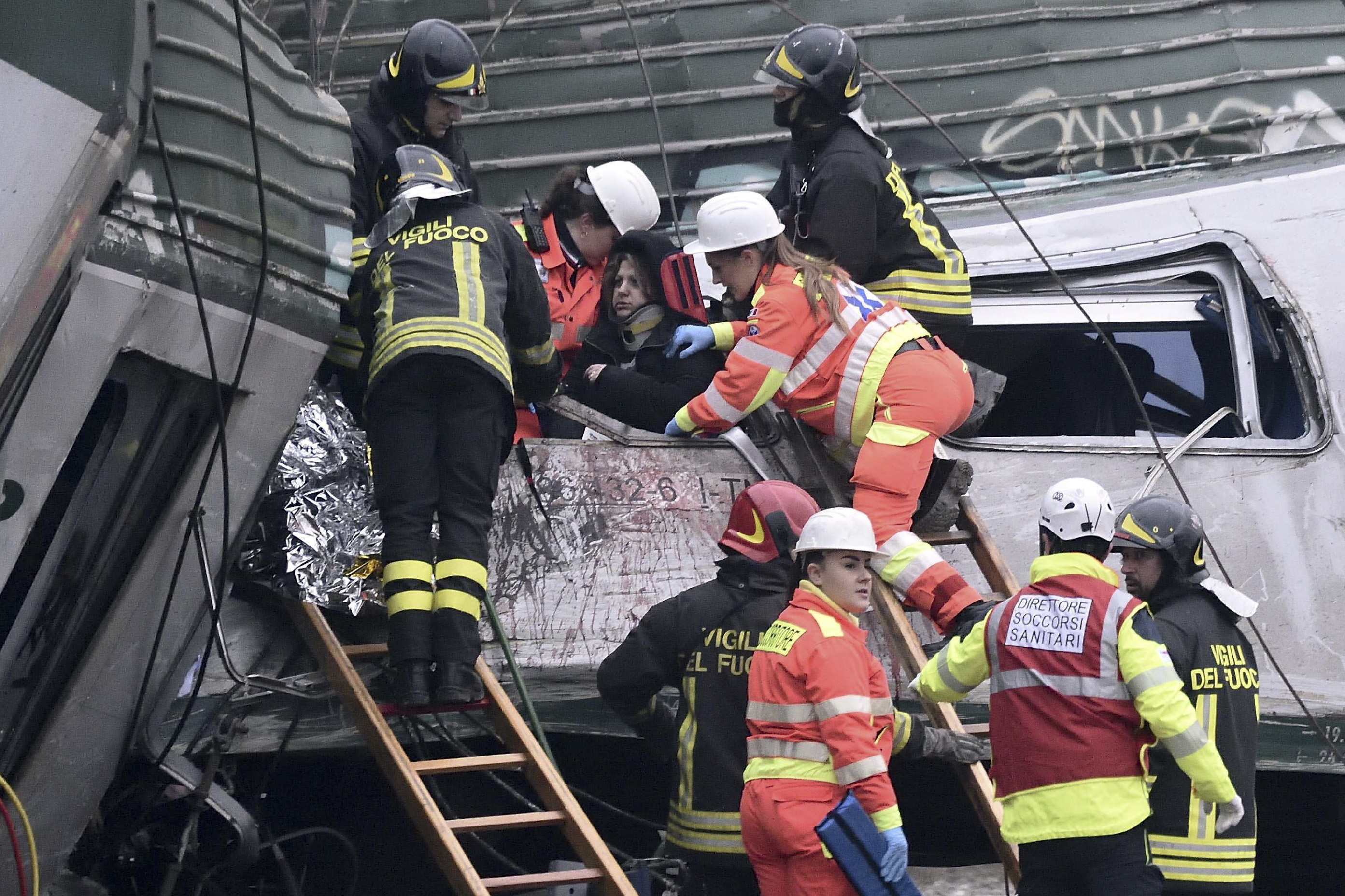 By COLLEEN BARRY
NICOLE WINFIELD
Associated Press
MILAN (AP) — A commuter train derailed Thursday in northern Italy, killing at least three people, seriously injuring 10 and trapping others heading into Milan at the start of the work day, officials said.
The Trenord train derailed near the Pioltello Limito station on the outskirts of the city, halting train traffic into and out of Italy's financial capital for hours. A piece of the track appeared broken, and officials said a wheel sustained damage as well, though the cause was under investigation.
At least two main cars from the middle of the train peeled off the rails but were still standing, albeit at an angle. Rescue crews gingerly climbed through the crushed sides of the cars trying to get to trapped passengers.
Prosecutors at the scene said at least three people were killed, 10 were seriously injured and dozens more slightly injured. The train was heading from Cremona, in eastern Lombardy, into Milan's Garibaldi station and suffered some sort of damage to a wheel about 2.5 kilometers (1.5 miles) from where the train came to a halt, said Umberto Debruto, who is in charge of the railway network in Italy.
Debruto told Sky TG24 that it wasn't clear "if that was the cause or the result" of the derailment.
Images of the track showed a chunk of one rail missing, but it wasn't clear what role it played.
Debruto said the train was travelling at the correct speed for that hour, on a high-speed line which was normal for that stretch of track, where there are two conventional rail lines and two high-speed lines. He denied any common cause between Thursday's derailment and a July 23 derailment outside the Pioltello station in which no one was injured.
Passengers reported feeling the car shake for a few minutes before hearing a big bang, and then feeling the car crush in on them.
Trenord is the regional train company serving the Lombardy region. It is notorious among passengers for dirty, packed cars and frequent delays. On social media Thursday, it was ridiculed for tweets blaming delays into Milan on a "technical inconvenience" involving a train.
It was the latest incident involving Italy's aging rail system. In 2016, 23 people were killed when two trains collided on a single track in an olive grove in Puglia, southeastern Italy. In 2009, 32 people were killed when a freight train carrying liquefied petroleum gas derailed and exploded in Viareggio, in central Italy's Tuscany region.