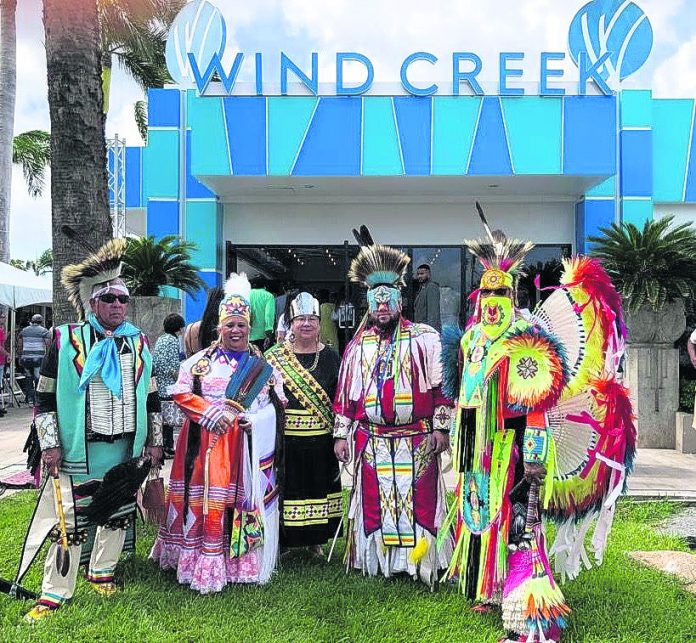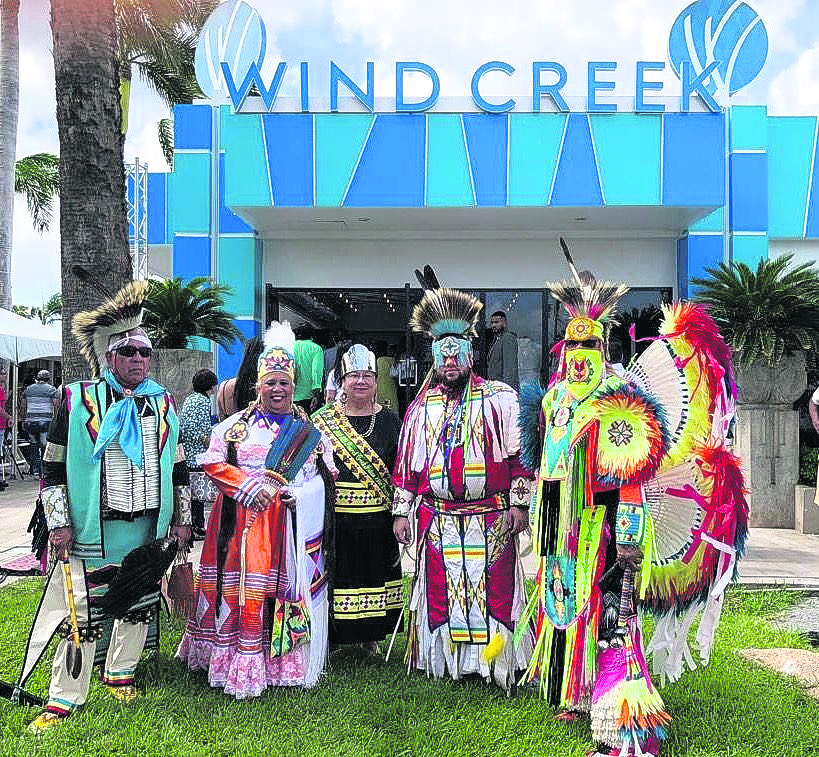 Wind Creek Seaport Casino is now open. After months of preparation and renovation, the doors re-open to a brand new casino with the latest in gaming machines, tables and jackpot lighting. The newly renovated casino is designed to welcome our loyal local players to a new design where 'Island meets modern Dutch'.
Grand Opening.
It was a grand opening like no other; 12 hours of nonstop fun, music, food, drinks and a grand prize giveaway of $10,000 in cash! The morning started with rythmic rumbles of a local brassband followed by traditional Native American dancing performed by members of the Poarch Band of Creek Indians from Alabama. This fusion of culture, tunes and dance symbolized a blessing for Wind Creek Seaport Casino's new beginning and the grand welcoming of Wind Creek Hospitality to Aruba.
The ceremony was led by Jay Dorris, President & Chief Executive Officer at Wind Creek Hospitality. Together with Paul Gielen, General Manager of Renaissance Aruba Resort & Casino, Dorris cut the giant blue ribbon and pronounced a successful opening of Wind Creek Seaport Casino. Dorris commented, "I have looked forward to this day since we purchased the property in 2017. Since then we have learned firsthand how special Aruba is and we worked hard to honor that culture through the interior design and renovation of the property. Now we look forward to providing guests the most exciting gaming experience in Aruba."
Island meets modern Dutch.
When designing the new interior of Wind Creek Seaport Casino, many components were brought to the table and one special component stood out – loyal local players. Dash Design was responsible for the unique interior. The Wind Creek Seaport Casino merges Aruban vibes with modern Dutch design. Not only local players, but all Island explorers are welcomed into a casual, fun and engaging space that touches all of your senses, and invites guests to relax and lose track of time. Completion of this $2.5 Million renovation allows guests to enjoy a brand new casino and a gaming experience like no other.
Newly Renovated Casino.
The newly renovated casino shows the latest in lighting technology. Lights illuminate the entire casino creating a real party experience whenever a jackpot has been won. The casino offers a total of 280 new slot machines and 8 gaming tables including Roulette, Blackjack, Caribbean Stud Poker and Three Card Poker. The casino also offers the biggest sports betting section on Aruba where players can easily bet on their favorite sports and follow everything live on 25 screens.
Wind Creek Rewards.
Guests can visit Player Services and sign up to the Wind Creek Rewards program. The best part of becoming a Wind Creek Rewards Member is the posibility to earn points by playing in the casinos. Now, players also have the opportunity to continue playing online at www.windcreekcasino.com. Wind Creek Casinos offer the most generous rewards program on Aruba. Wind Creek Crystal Casino is open 24-hours and Wind Creek Seaport Casino is open from 10AM till 4AM. For more information, please visit our Facebook; www.facebook.com/CrystalSeaportCasino/ or website; www.windcreekaruba.com
About Wind Creek Hospitality.
Wind Creek Hospitality is an authority of the Poarch Band of Creek Indians.  Wind Creek Hospitality manages the Tribe's gaming facilities including: Wind Creek Atmore, Wind Creek Wetumpka, Wind Creek Montgomery, Wind Creek Bethlehem, Wa She Shu Casino in Nevada, Renaissance Aruba Resort & Casino, Renaissance Curacao Resort & Casino, WindCreekCasino.com as well as racetracks in Alabama and Florida.  For more information, visit: https://windcreekhospitality.com/.
About the Poarch Band of Creek Indians.
The Poarch Band of Creek Indians is the only federally recognized Indian Tribe in the state of Alabama, operating as a sovereign nation with its own system of government and bylaws.  The Tribe operates a variety of economic enterprises which employ thousands.  For more information, visit: www.pci-nsn.gov.