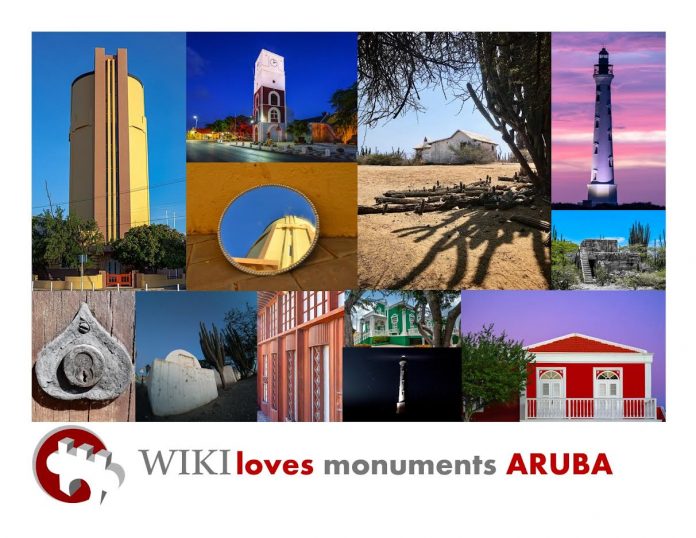 It's september and it's monuments month! After a successful Wiki Loves Monuments competition in 2020. Monumentsfund Aruba is once again organizing Wiki Loves Monuments, world's largest photography competition to document monuments around the world.
Wiki Loves Monuments is an international competition organized by Wikimedia. Wikimedia is the organization behind Wikipedia, the free encyclopedia and a global collaboration supported by volunteers.
The competition initiated in 2010 in the Netherlands, after expanding to Europe and worldwide, collecting information about more than 1.5 million monuments from 76 countries and more than 2 million photographs uploaded by more than 600 000 participants.
The competition consists of a national and an international competition; around 40 countries around the world organizes a national competition each year with their own rules and events but with one thing in common; monuments.
Each national competition will nominate their winners to participate in the international competition. These photographs will be judged by an international jury who will choose the best images. In 2021 Aruba did not organize WLM but was part of the international jury.
Cultural heritage is an important part of the knowledge Wikipedia collects and disseminates. Everybody can contribute with images as well as write articles. An image is worth a thousand words, in every language at once and local enthusiasts can (re)discover the cultural, historical, or scientific significance of their neighborhood.
This year Monuments Fund will organize the national competition for Aruba for the fifth time.
The competition will be between September 1 and 30.
How to participate
Step 1: Find a monument on the Monuments List Aruba on Wikimedia. Note the ID number from the monuments you would like to upload a photo from.
Step 2: Make photos of the monument. Make as many and as good photos as you can, try different angles. Even if the photo doesn't win you a prize, it will contribute to Wikipedia with more information about Aruban Heritage!
Step 3: Write down what you photographed. Record the site's name, the monument ID, description, and date of photo.
Step 4: Don't have a Wikimedia Commons account yet? Create one here it takes just a few minutes! Make sure that your email address is confirmed.
Step 5: Upload your photos to Wikimedia Commons between 1 and 30 September.
Rules
There are a few rules for photos to participate in the international contest. These rules are also adopted as rules for participation on a national level.
Every submission should be:
Self taken and self-uploaded;
Uploaded in September 2022;
Freely licensed;
Contain an identified monument;
For more information Commons:Wiki Loves Monuments 2022 in Aruba – Wikimedia Commons or follow us on Facebook: Stichting Monumentenfonds Aruba.