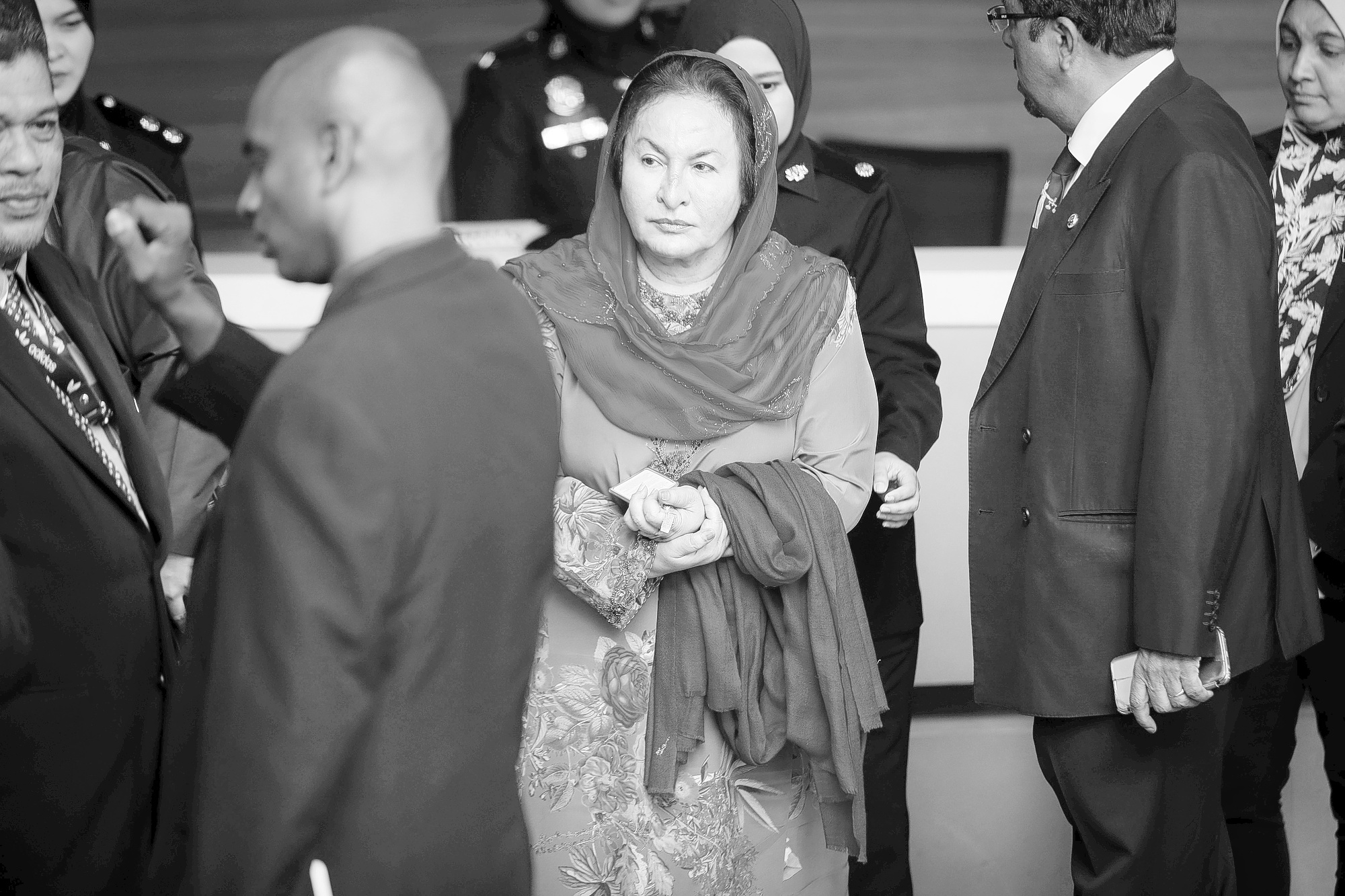 By EILEEN NG
Associated Press

KUALA LUMPUR, Malaysia (AP) — Anti-corruption investigators questioned the wife of former Malaysian Prime Minister Najib Razak on Tuesday about alleged theft and money-laundering involving the 1MDB state investment fund, as officials announced a probe into other suspicious multibillion-dollar transactions under Najib's leadership. The prosecution of Najib and his wife Rosmah Mansor over the 1MDB scandal, which helped lead to Najib's stunning ouster in May 9 national elections, could be sped up with the government's appointment Tuesday of a new attorney-general.
The appointee, distinguished lawyer Tommy Thomas, is the first person from outside Malaysia's Malay majority to hold the powerful position in more than half a century. His Najib-appointed predecessor had stifled investigations. Rosmah, accompanied by her daughter and son-in-law, didn't speak to reporters as she was escorted into the Malaysian Anti-Corruption Commission office, where she was questioned for three hours. She was summoned nearly two weeks after Najib was questioned twice by the agency. In another blow to the former first couple, their lawyer M. Puravelan told The Associated Press that he is no longer representing Rosmah and Najib.
He said another prominent lawyer Yusof Zainal Abideen had also withdrawn. He said they didn't quit because of disagreement over legal strategies for the 1MDB case but declined to elaborate. Najib set up the 1MDB fund when he took power in 2009 but it accumulated billions in debts. U.S. investigators say Najib's associates stole and laundered $4.5 billion from the fund from 2009 to 2014, some of which landed in Najib's bank account. They say $27.3 million was used to buy a rare diamond necklace for Rosmah. New Prime Minister Mahathir Mohamad reopened investigations into 1MDB that were suppressed under Najib's rule. He has also banned the couple from leaving the country. The country's new anti-graft chief has said Najib, who denies any wrongdoing, could soon face criminal charges.
On Tuesday, officials announced they had alerted the anti-graft commission to at least $2 billion worth of government-related transactions that are "highly suspicious." The Finance Ministry said in a statement that a state company overseeing gas and petroleum pipeline projects that began in April last year had paid nearly all the $2 billion-plus project funds to the Chinese developer despite less than 15 percent of the pipeline work being completed as of March. The state company was set up by the "same people" who established a 1MDB subsidiary that Malaysian investigators allege was used to funnel state funds to Najib's bank account, according to the statement.
It said the state company's president is also a director of a company tied to Low Taek Jho, a Najib associate who U.S. investigators allege masterminded the looting of 1MDB. The statement said the contracts were negotiated by the prime minister's department without involving treasury officials who would normally vet such transactions. The projects, which relied largely on Chinese loans backed by the Malaysian government's repayment guarantee, proceeded despite numerous "red flags" raised in other parts of the government, it said.
Najib said in a statement on social media late Tuesday that the projects were negotiated on a government-to-government basis and that all procedures and laws were complied with.
He said he welcomed transparent investigations into the projects and urged the government not to make "politically motivated" allegations that could harm diplomatic and trade ties with China. Separately, the appointment of Thomas, an ethnic Indian and a Christian, stirred some disquiet among the country's Muslim Malay majority. Groups representing ethnic Malays, who make up two-thirds of Malaysia's 31 million people, had demanded the top legal job be given to a Muslim to ensure Islam is protected as the official religion. Media reports said Mahathir submitted Thomas' candidacy to Malaysia's constitutional monarch, Sultan Muhammad V, nearly two weeks ago, sparking a bitter debate over his race and religion.
The palace statement said the king urged all Malaysians to ensure the appointment of Thomas doesn't "create any religious or racial conflict as every Malaysian should be treated fairly." He promised that Malay rights and Islam would remain protected. Many Malaysians, including Malays, supported Thomas, saying on social media that his appointment will bolster reforms and symbolizes that Malaysia should be free from racial and religious barriers.
Thomas, 66, is a renowned senior lawyer whose first task will be to handle prosecution of the 1MDB case. His predecessor, Mohamad Apandi Ali, attempted to clear Najib of wrongdoing in 2016, saying some $700 million that landed in Najib's bank account was a donation from the Saudi royal family and that most of it has been returned. U.S. investigators say the money was from 1MDB.
Najib was grilled last month over why an additional 42 million ringgit ($10.6 million) was transferred into his bank account from SRC International, a former unit of the 1MDB fund, using multiple intermediary companies. Rosmah is being questioned in the same case.
Police have seized 114 million ringgit ($28.7 million) in cash and hundreds of expensive designer handbags and jewelry from Najib's home and other properties. The government has said Najib's administration conducted an "exercise of deception" over 1MDB and deceived parliament over the country's financial situation. Officials say the national debt has ballooned to more than 1 trillion ringgit ($252 billion), partly due to the 1MDB saga. Mahathir, who was prime minister for 22 years until 2003, was spurred out of retirement by the 1MDB scandal. He has vowed there will be no deal for Najib, saying he will face the consequences if found guilty of wrongdoing.