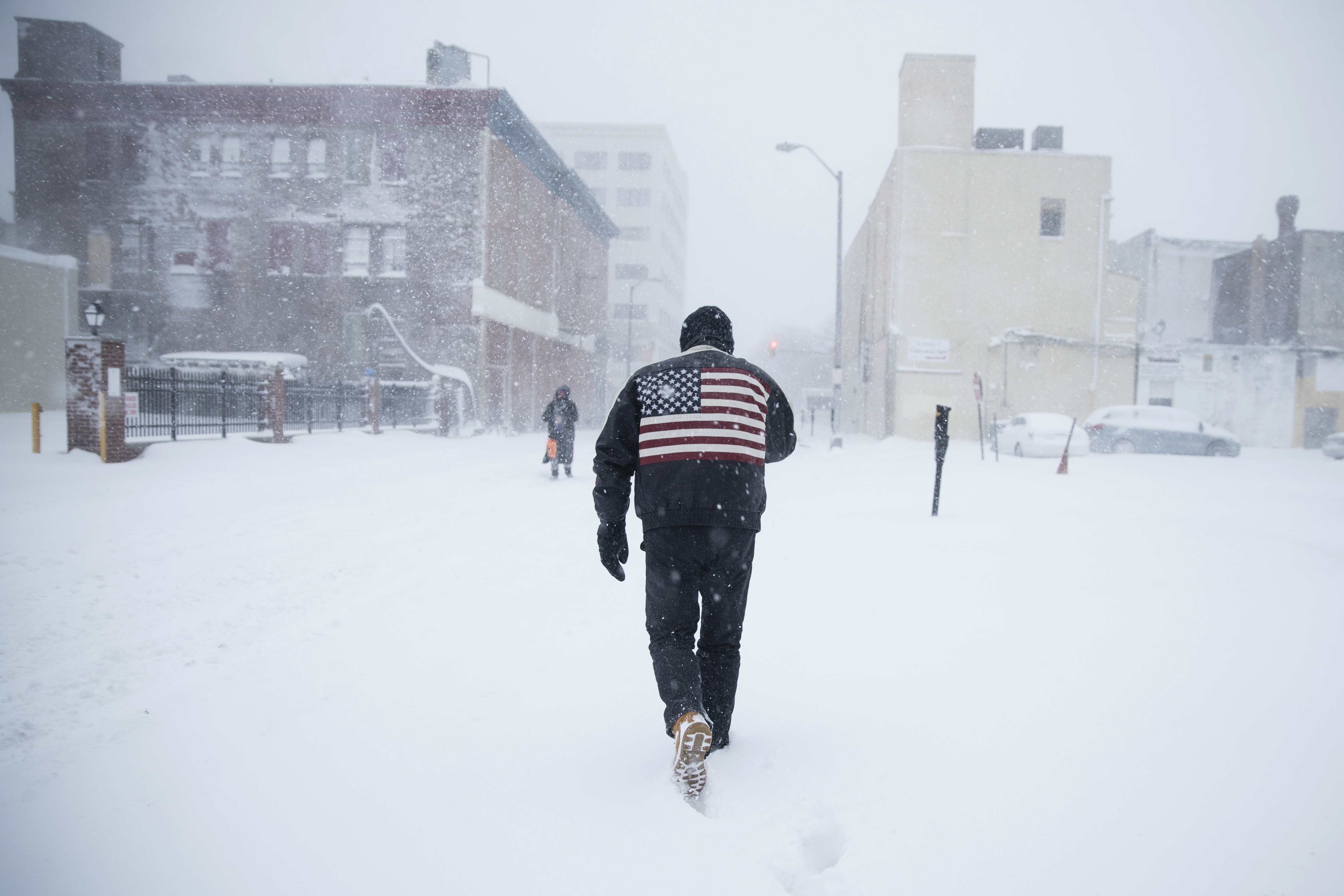 By SUSAN HAIGH
DAVE COLLINS
Associated Press
HARTFORD, Conn. (AP) — A massive winter storm roared into the East Coast on Thursday, threatening to dump as much as 18 inches of snow from the Carolinas to Maine and unleashing hurricane-force winds and flooding that closed schools and offices and halted transportation systems.
Forecasters expected the storm to be followed immediately by a blast of face-stinging cold air that could break records in more than two dozen cities and bring wind chills as low as minus 40 degrees this weekend.
Blizzard warnings and states of emergency were in wide effect, and wind gusts hit more than 70 mph (113 kph) in some places. Eastern Massachusetts and most of Rhode Island braced for as much as 3 inches of snow per hour. Four people were killed in North and South Carolina after their vehicles ran off snow-covered roads, authorities said. Another fatality was reported near Philadelphia when a car could not stop at the bottom of a steep, snow-covered hill and slammed into a commuter train. A passenger in the vehicle was killed. No one on the train was hurt.
In New Jersey, Orlando Igmat's car got stuck in a snowbank along the Garden State Parkway in Tinton Falls as he drove to work at Verizon. He waited a half hour for a tow truck to pull him out. "I didn't expect it (the storm) was going to be a heavy one. That's why I went to work today. I'm going to stay in a hotel tonight," he said.
More than 100,000 homes and businesses lost power at some point, depriving many people of heat. Connecticut opened more than 100 warming centers in 34 towns. More than half of the outages — mostly in the South — were restored by Thursday afternoon. The high winds caused coastal flooding from Massachusetts to Maine, overwhelming fishing piers, streets and restaurants. The rising waters also stranded people in homes and cars. The Massachusetts National Guard said it helped rescue a woman and her two children from a car in Marshfield. Flooding in Newburyport forced evacuations on Plum Island, and the only road from the island to the mainland was closed, police said.
Joe Weatherly, a 40-year-old artist from Los Angeles, was in Boston's Seaport district, holding his Boston terrier while searching for a seafood restaurant. Part of the district was flooded. "For someone in California, this is really, really scary. Mind blowing," he said. "We don't live in a state where things shut down with the weather. I've just never seen this much snow in my life."
The high tide in Portland, Maine, reached 13.79 feet, nearly matching the 14.17-feet reported during the Blizzard of 1978. Linda Heuman and Amy Remensnyder were supposed to fly to Berlin on Thursday, but the flight was canceled. That left them stuck in their home in Providence, Rhode Island, with no food. So they trekked through the snow to a grocery store nearly a mile away.Their plans for the rest of the day were simple: Make soup, do some desk work and maybe watch a movie with popcorn, Remensnyder said.
Schools, businesses and ferry services in parts of the Canadian coast were also shut down. Nova Scotia Power said it had more than 1,000 people at the ready in its biggest-ever pre-storm mobilization of personnel and resources.
Wind gusts strong enough to topple trees and power lines were predicted in the Delmarva Peninsula, which includes parts of Delaware, Virginia and Maryland; coastal New Jersey; eastern Long Island, New York; and coastal eastern New England. The flight-tracking site FlightAware reported nearly 5,000 canceled flights across the United States. Those included more than two-thirds of flights in and out of New York City and Boston airports. Rail service was affected too. Amtrak planned to operate a modified schedule between New York and Boston. Northeast Regional Service between Washington, D.C., and Newport News/Norfolk, Virginia, was canceled. Some people took the weather in stride.
Mark Schoenenberger, a 45-year-old NASA engineer who lives in Norfolk, Virginia, put on his cross country skis so he could make a half hour trip to the bagel shop for some breakfast for his family. "It's like 'Yay, I get to go out," he said.
The only concern he seemed to have was telecommuting while his kids were home from school. But "it's just noise," he said. Waiting just behind the she storm was a wave of bracing cold. National Weather Service meteorologist Dan Peterson said record low temperatures were predicted for 28 major cities across New England, eastern New York and the mid-Atlantic states by dawn Sunday. Boston expected a low around minus 11 overnight Saturday into Sunday. Portland, Maine, and Burlington, Vermont, could see minus 16 and 19, respectively, the weather service said.
State and local officials urged people to stay home so crews could clear away the snow. There were concerns in Boston and elsewhere that if roads were not properly cleared, the snow could freeze into cement-like ice after the cold blast arrives. In other areas, plummeting temperatures caused water mains to burst. Jackson, Mississippi, was under a precautionary boil-water notice after pipes failed. Portable toilets were placed outside the state Capitol because some of the toilets would not flush.
The massive storm began two days ago in the Gulf of Mexico and first struck the Florida Panhandle. Some meteorologists described it as a "bomb cyclone," a term that comes from the process of bombogensis, when the barometric pressure drops steeply in a short period.