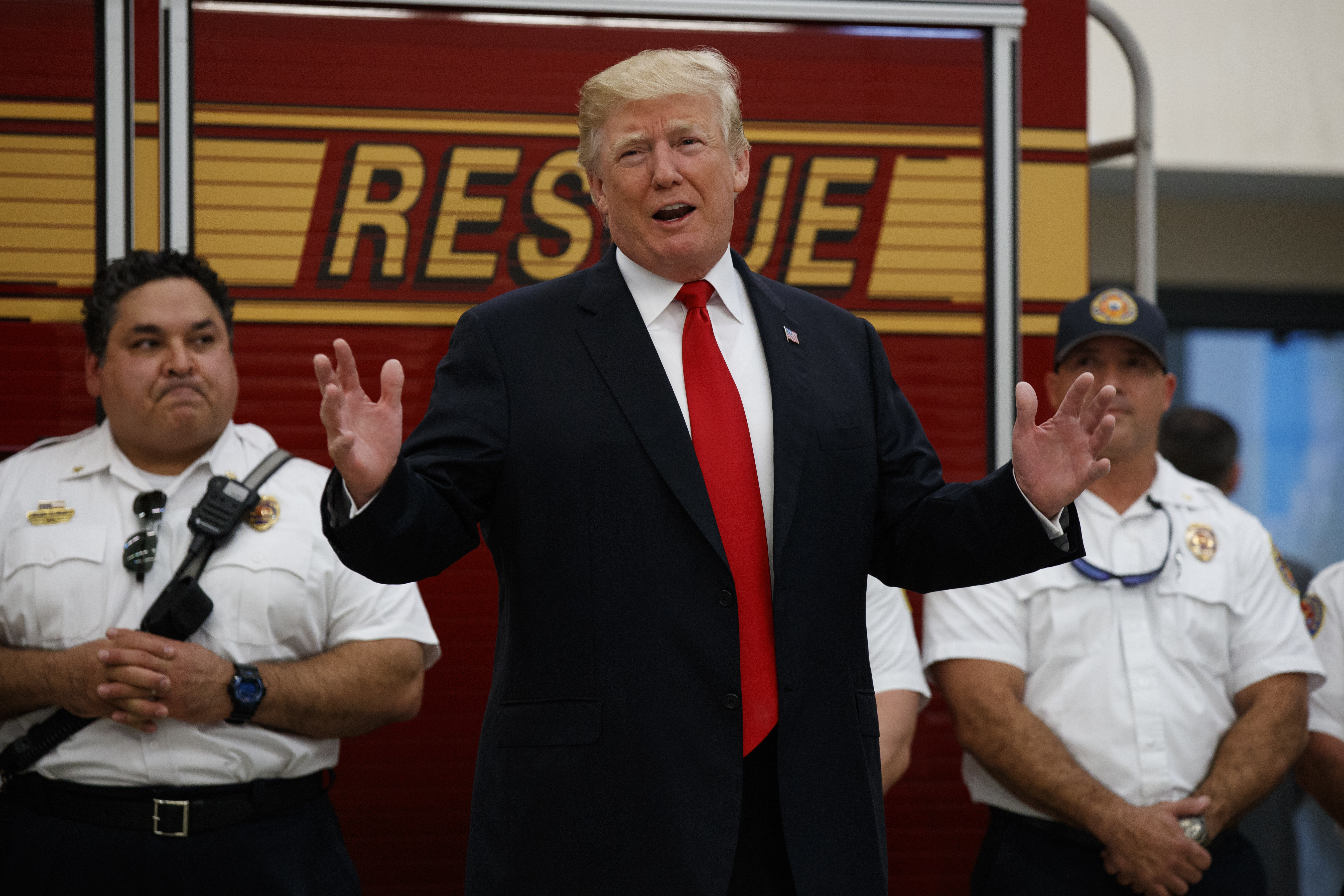 By JILL COLVIN
Associated Press
WASHINGTON (AP) — After living in Washington for nearly a year, President Donald Trump has yet to enjoy a single non-working meal at a restaurant that doesn't pay him rent. He hasn't taken in a performance at the Kennedy Center; hasn't been to a sporting event; hasn't toured most of the sights.
It's one of the peculiarities of the Trump presidency and one of a long list of ways in which he's changing the office, as well as its relationship with Washington.
"I would say that Trump has been the least present of any of the most recent presidents," said Phil Mendelson, chairman of the Washington, D.C., City Council and a Democratic member of the council since 1999.
It's not just restaurants, says Mendelson. Trump has been less engaged on the local charity circuit than other recent presidents, with no stops at local food banks or to help elementary school reading drives. First lady Melania Trump has been venturing out more often, appearing with Jordan's Queen Rania at a girls' charter school, attending a holiday toy drive sponsored by the military and visiting with patients and staff at Children's National hospital.
But the homebody president rarely goes out — and when he does it's almost always to properties that bear his name.
Trump has spent at least part of more than 100 days of his presidency at properties he owns — taking winter weekends at his private Mar-a-Lago club in Florida and summer weekends in Bedminster, New Jersey, or at his Virginia golf club.
Those weekends that he does spend in Washington, Trump has dined at just one restaurant: BLT Prime in the Trump International Hotel, which opened last year just a few blocks from the White House. Trump's visits have thrilled the tourists who flock to the hotel, building buzz and earning revenue. But most often, Trump, who is known to prefer well-done steaks with ketchup to snootier fare, chooses to eat in.
"I love the food in the White House. The White House is the greatest restaurant, it's the most beautiful," he told the Larry O'Connor radio show last month. "They do such a beautiful job."
Trump took office as arguably the most prepared of recent presidents for the constraints of living and working in the White House and its Secret Service-enforced security bubble, having spent decades ensconced at Trump Tower in New York.
"The reason my hair looks so neat all the time is because I don't have to deal with the elements. I live in the building where I work. I take an elevator from my bedroom to my office. The rest of the time, I'm either in my stretch limousine, my private jet, my helicopter, or my private club in Palm Beach Florida," he once wrote.
Not much has changed — though the house, plane and helicopter are now taxpayer-paid.
Trump's homebody ways mark a dramatic shift from his predecessor, who relished the renaissance in the D.C. dining scene. The Obamas embraced Washington, sampling its hottest restaurants, from high-end to low brow, and providing coveted buzz to eateries like celebrity chef José Andrés' small plates restaurant Oyamel Cocina Mexicana and Danny Meyer's Shake Shack.
During the 2014 government shutdown, Obama and Vice President Joe Biden made a run to Taylor Gourmet sandwich shop, which was offering discounts for government workers. And when it was time to signal an attempted reset in relations with Russia, Obama treated Russian President Dmitry Medvedev to a burgers and fries at Ray's Hell Burger in nearby Arlington, Virginia.
Even before Obama's inauguration, then-Mayor Adrian Fenty welcomed the soon-to-be president to the city with lunch at the famous Ben's Chili Bowl.
"It is actually tragic that the current administration hasn't taken the time yet to go out to the different restaurants to see how vibrant and delicious the current dining scene in D.C. actually is," said Nycci Safier Nellis, publisher of TheListAreYouOnIt.com, which tracks the local food scene.
Obama also embraced the city in other ways, celebrating Small Business Saturday, for instance, with a trip to Kramerbooks with his daughters. Michelle Obama was often spotted at SoulCycle.
The Trumps have kept a much lower profile, with no known first lady shopping trips or presidential visits to son Barron's soccer games. Trump did visit the Smithsonian's new black history museum last February during Black History Month.
Trump recently suggested he might venture out of his comfort zone more often.
"In Washington you do have some great restaurants, and I'm going to start going to 'em," he said in the radio interview last month. "I was accused the other day, well, when I leave the White House, which is seldom, I always go to my hotel on Pennsylvania Avenue and they say, 'He should go to other places.' And I never thought of it, and I'm going to start doing that. I'm going to go around."
Jessica Sidman, food editor at Washingtonian magazine, said Trump may face resistance in a diverse and overwhelmingly Democratic city, where he won just 4 percent of the vote.
"I'm sure there are places that would welcome him, but I think there are a lot of places that might be reluctant to serve him, even though restaurants kind of have this idea of hospitality and we welcome everyone," she said.
"It's good to show respect to your community" by giving them business, she said, "but I'm just not sure to what extent he's welcome in the community."