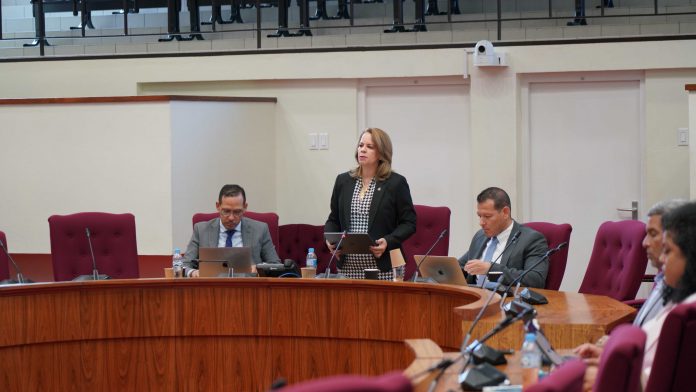 Wednesday morning, during a public meeting in Parliament, Prime Minister Mrs. Evelyn Wever-Croes together with minister of Justice, Mr. Rocco Tjon gave a thorough explanation regarding the reopening of the border with neighboring country Venezuela.
The Prime Minister elaborated on the aspects on which the commission in charge gave advice for the Government to take into consideration for the decision regarding the reopening of the border. The aspects are among others asylum, human rights violations in Venezuela, DVG (Department of Public Health) and Visa.
In this, the visa requirement is a very important aspect. In the beginning of the Wever-Croes II Cabinet governance, the government was struggling with the problem of the migratory crisis and evaluated the option of introducing a visa. As is known currently, those who want to leave from Venezuela and visit Aruba, Curaçao or Bonaire, need to apply for a visa. The process is not easy seeing as this visa needs to be requested at the embassy of Caracas, where the current policy is that they do not process more than 8,000 visas per year. This 8,000 visa total counts for all countries in the Caribbean part of the Kingdom of the Netherlands.
To apply for this visa, the person needs to have a certain income and must be able to demonstrate that they have enough money to cover the costs during their stay. They also check if the person has a penal history. All this information is stored in the system.
There are some categories considered "preferential", which means these people receive their visa quicker. The categories are MICE (Meetings, Incentives, Conferences and Events), which is an event organized by Aruba Tourism Authority. Also those who are owners of one or more properties in Aruba will receive the visa to come take care of their properties. Tourists coming for a business or those who hold a VTA – meaning those who have an American visa – do not need to apply for a visa for Aruba.
The position of the Government of Aruba is to reach concrete agreements with Venezuela authorities. The conversations are taking shape slowly and the government expects that good agreements can be reached so that Aruba can be sure that the reopening of the border will be safe, secure and responsible.